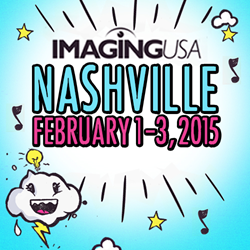 Imaging USA is already, in our opinion, the best deal out there for photographers. A chance to win one of these gifts just makes it that much better.
NASHVILLE, Tenn. (PRWEB) November 10, 2014
Professional Photographers of America (PPA) is sweetening the pot for registrants for its annual photography conference and tradeshow, Imaging USA, to be held Feb. 1-3, 2015, at Opryland Resort and Convention Center in Nashville, Tennessee.
Those who register by December 31 will be entered to win a prize of their choosing out of a pool of four, including 60,000 airline miles, a comp'd hotel room at Opryland from Saturday, Jan. 31 to Wednesday, Feb. 4, a free Imaging USA all-access pass and a pre-convention class or lunch with a speaker of their choosing (pending availability) and VIP seating at the Evening With Peter Lik event. Prizes will be awarded every two weeks, with the selected prize being removed from the pool of options for the next round.
"We're in the holiday spirit early," said PPA president, Susan Michal, M.Photog.Cr., CPP, ABI. "Imaging USA is already, in our opinion, the best deal out there for photographers. It's much cheaper than the other conventions out there and gives attendees so much more value. A chance to win one of these gifts just makes it that much better."
Imaging USA is the longest-running international photographic convention, expo and image exhibition in the world. The event dates back to 1880, when PPA began organizing its annual convention and tradeshow, ran by professional photographers for professional photographers.
More than 10,000 industry professionals will descend upon the Music City for three days of photography education and inspiration as well as some exclusive photography-related shopping.
Highlights of Imaging USA 2015 include the three-day Imaging Expo tradeshow, featuring more than 600 booths, giving photographers the opportunity to demo and purchase the latest products at deeply discounted and tradeshow-only offers. The event also includes more than one hundred speeches, presentations and hands-on demonstrations by some of the most respected names in the photographic industry. Photographers will also find mentoring opportunities, portfolio reviews and 10,000+ photographers to network with and create career-spanning relationships—a real bonus for photographers, who typically work for themselves. There is also three days of smaller, more intimate, pre-convention classes for an extra learning boost.
New to Imaging USA this year will be a new mobile app and game, extended viewing hours for the International Photographic Competition (IPC) exhibit, a PPA Charities 5K run, fundraiser and shoe drive, the opening night Super Bowl™ viewing party and a keynote presentation, book signing and exclusive convention-long exhibit from acclaimed landscape photographer, Peter Lik, M.Photog.
To be eligible for the giveaways, photographers have the option to register for an Imaging USA all-access pass, or join PPA as a Professional Active member and sign up for free. PPA offers a free full-registration to Imaging USA as a perk for new members. Professional Active PPA memberships are available for $27.92 a month.
Visit ImagingUSA.org for complete program and registration information.
About PPA:
Professional Photographers of America (PPA) is the largest international non-profit association created by professional photographers, for professional photographers. Almost as long-lived as photography itself, PPA's roots date back to 1869. This nonprofit assists more than 27,000 members through protection, education and resources for their continued success. See how PPA helps photographers be more at ppa.com.