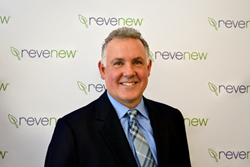 "Already he is providing the foundation for Revenew to enter new markets, and his passion for our customers and prospects is palpable." -Nasrin Thierer
Chicago, IL (PRWEB) November 10, 2014
Revenew Inc., a local marketing platform that helps enterprise brands empower their local affiliates to effectively market at the local level, announced it has appointed enterprise software industry veteran John Stammen as president and chief operating officer.
Stammen brings more than three decades of marketing and software experience to Revenew. Most recently, he was an executive vice president at Aprimo Inc., the leader in Integrated Marketing Management continually recognized by leading analyst research firms as a top choice. Aprimo was acquired by Teradata in 2011. At Aprimo, Stammen led the company from single digits in U.S. revenues to a global brand with nearly 350 enterprises and hundreds of thousands of users. Previously, he was vice president and general manager of PeopleSoft, overseeing sales, alliances, services and development of enterprise resource planning systems for medium-size companies. He also served as regional vice president of D&B Software.
"We welcome John's depth and breadth of marketing technology knowledge," said Nasrin Thierer, Revenew founder and CEO. "Already he is providing the foundation for Revenew to enter new markets, and his passion for our customers and prospects is palpable."
Stammen will seek to replicate Revenew's success in the consumer electronics industry in other markets with a heavy local channel presence, such as financial services, insurance, automotive and business-to-business technology.
"What drew me to Revenew was its strength in product and solution offerings and its vision," Stammen said. "It's never been more important for brands to be able to market effectively at the local level and we are well-positioned to enable that in many industries globally."
About Revenew
Revenew is the cloud-based local marketing platform that helps companies manage the chaos of local marketing. Revenew is the only platform that allows enterprise brands to support all of their local affiliates with the right content, data, funds and tools needed to compete and grow in their local area. On Revenew, brands have the flexibility and visibility to optimize both inbound and outbound marketing to truly capture local share. For more information, visit revenew.com.