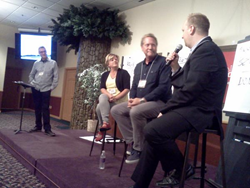 "Faced with threatening trends, imperfect options, and fears of members' discomfort, leaders increasingly are choosing to refrain from making any meaningful and necessary changes." Thom Schultz
Loveland, CO (PRWEB) November 10, 2014
A recent gathering of church leaders, reporters and analysts determined two imminent threats facing the church in North America.
In a recent blog post, Thom Schultz, president of Colorado-based Group Publishing, outlined two major conclusions drawn from the Future of the Church Summit held October 22-24, 2014.
The three-day summit featured guest speakers and panel discussions addressing the cause of overall church decline in America while providing ideas and solutions for the future.
Schultz shared that a fear of change and the same-sex debate in the church are the two biggest threats identified during the summit.
"At the end of the summit, after hours of conversation and scrutiny, the group identified these two major threats looming before the church," Schultz said. "These two things, more than many other factors, are predicted to inhibit the church's progress."
While he acknowledged a fear of change is nothing new for the church, Schultz explained the rate of change in today's culture is heightening angst among church leaders.
"Faced with threatening trends, imperfect options, and fears of members' discomfort, leaders increasingly are choosing to refrain from making any meaningful and necessary changes," he said.
Schultz also said most churches are avoiding conversations regarding the same-sex debate with their congregations or denominations.
"Most churches recognize the risk involved with entering the fray. Some churches and other Christian organizations have experienced upheaval and losses after taking stands on same-sex issues. But the controversy is not going away."
To see a full summary of Schultz's findings from the 2014 Future of the Church Summit, visit HolySoup.com.
For more information on the Future of the Church Summit or to register for the 2015 Summit visit futureofthechurch.com.
Next year's Future of the Church Summit is set for October 21-23, 2015.
Questions about the Future of the Church Summit may be directed to Becky Hodges at (970) 292-4245 or bhodges(at)group(dot)com.
###
Images and interviews are available upon request.