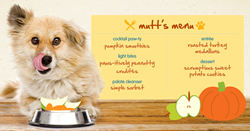 Newtown Square, PA (PRWEB) November 10, 2014
Tucking into turkey with all the trimmings and spending time with family is Thanksgiving in a pie plate; but feasting on rich, fatty foods can knock the stuffing out of Fido and Fluffy – and your wallet! Thankfully, there's an alternative that can keep pets' tummies satisfied and safe: introducing A Feast Fit for Fido, Petplan's vet-authored Thanksgiving menu created especially for furry friends.
Treating common turkey day health hazards in pets can cost a cornucopia of cash during Thanksgiving weekend (Thursday-Sunday). On an average day, Petplan policyholders spend about $620 on veterinary treatment for a bout of pancreatitis, but over Thanksgiving weekend last year this number soared 148%, costing pet parents $1,537 for the same treatment. Vet bills to treat pet poisoning also saw an increase. With an average price tag of $572 any other day of the year, costs soared 146% to $1,407 over Thanksgiving weekend last year – costing pet parents 146% more!
"Many vet hospitals have limited hours or close for the holiday weekend, meaning pet parents must visit an emergency clinic for treatment, which often comes with a heftier price tag," explains Dr. Jules Benson, Petplan's Chief Veterinary Medical Officer. "We also see that gastrointestinal issues tend to be more severe at Thanksgiving, as pets bite off more rich fare than they can chew!"
Pet parents who put the halt on helpings of table foods for their pets can fall fowl to another Thanksgiving tradition: the four-legged guilt trip! With a hangdog expression on their face, those big brown eyes beg for a fraction of the feast. Add barking and whining to the mix and Fido's banished to another room while a blushing pet parent assures guests that he's usually much better behaved.
What's a pet parent to do? Turn to Petplan's mutt's menu full of delicious vet-authored Thanksgiving recipes (that the cat would approve of, too!). Furry friends will not only be included in the feasting festivities but the tasty treats will keep roving noses busy (and out of the way!). Petplan's veterinarians carefully concocted each recipe so pet parents can rest assured they're offering a safe alternative to table food handouts.
The recipes are easy-as-pie and use ingredients that are already on paw for the four-legger's feast. Plus, pet parents can peruse the recipe Game Plan that's full of helpful tips for fitting Fido's feast into the already scheduled cooking – three of the recipes can even be made the night before!
Here's a taster of what's on the mouthwatering menu:
Light Bites
Simple Sorbet: This frozen treat will keep roving noses (and tongues!) busy during dinner and can easily be prepared the night before.
Dinner is Served
Roasted Turkey Medallions: Put turkey back on the table for Fido and Fluffy with this delicious, tummy-friendly and protein-packed snack.
Just Desserts
Scrumptious Sweet Potato Cookies: Two-legged guests will look enviously at these low-sugar, low-calorie, high-flavor cookies!
Pet parents can pick and choose from the bounty of delicious dishes or rustle up all of them for a bark-worthy buffet. Remembering food safety is just as im-paw-tant as making sure everything is delicious.
"Pet parents should consider size when dishing out dinner," says Dr. Benson. "A Great Dane can feast on more than a Chihuahua! If you're whipping up some of these treats for your furry friend, adjust the amount of regular chow they eat that day to avoid an overstuffed stomach."
To get your paws on Petplan's Thanksgiving Recipe Guide, visit http://www.gopetplan.com/thanksgiving-treat-recipes.
###
ABOUT PETPLAN
Petplan is more than a pet insurance company. We're dedicated to providing pet parents with the support, resources and tools they need to keep their pets not just surviving—but thriving—into their old age. Simply put, we aim to be the kind of company that will make our pets proud. For the second consecutive year, Petplan was listed among the top 50 companies on Forbes' annual ranking of America's Most Promising Companies – a list of 100 privately held, high-growth companies with bright futures. Petplan is the only pet insurance company to have been included on Inc. Magazine's list of 500 fastest-growing, privately held companies in America.
Petplan's fully customizable cat and dog insurance policies provide comprehensive coverage for all hereditary and chronic conditions for the life of the pet as standard. Petplan policies are underwritten by AGCS Marine Insurance Company in the U.S. and by Allianz Global Risks US Insurance Company in Canada. The Allianz Group was rated A+ by A.M. Best in 2014. For more information about Petplan pet insurance, visit http://www.gopetplan.com or call 1-866-467-3875.