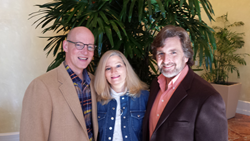 New York, NY (PRWEB) November 10, 2014
Veterans Day, which occurs annually every November 11th is the day in America when we pause to celebrate and honor America's veterans for their heroism, patriotism, and commitment to serve and sacrifice for the United States. As an industry, franchising embraces and supports our returning servicemen and women by empowering them to have a successful transition back to civilian life through business ownership. The franchise business model provides comprehensive training inclusive of marketing, operations, and financial structures necessary to run a successful business, making franchising a natural fit for veterans and their spouses.
With Veterans Day 2014 approaching, we applaud Kevin and Cynthia Anderson, not only for their commitment to serving this country, but also for their successful venture into business ownership through a Wild Birds Unlimited franchise. Wild Birds Unlimited is the largest backyard bird feeding and nature specialty store in America and was recently ranked by USA Today Money as a top 50 franchise for military veterans.
Wild Birds Unlimited recommended BoeFly.com to the Andersons to secure their start-up loan. "As a former Commander in the United States Navy, I am experienced with following and executing protocol," said Kevin Anderson. "I was relieved that Wild Birds Unlimited recommended that I use BoeFly for financing because BoeFly gave me the tools that I needed to successfully get a small business loan." The Andersons started their Wild Birds Unlimited franchise with a $250,000 small business loan. Ultimately, Kevin was connected to Craig Kaffenberger, formerly of Macon Bank for financing. BoeFly, the leading online marketplace connecting business owners and lenders to make business lending easier has had over $4 Billion dollars of small business and commercial loan transactions posted to the marketplace since its launch in March 2010.
"Our franchisees have had great success posting their loans to the BoeFly marketplace, which gives them access to almost 4,000 lenders whom work directly with the borrowers to fund their small business loans," said Paul Pickett, VP of Franchise Development at Wild Birds Unlimited, Inc. "We believe that our franchisees having access to a marketplace gives them the best chances of getting financing in the most efficient manner, allowing our concept to grow nationwide."
As part of a Veterans Day initiative, BoeFly in partnership with VetFran is offering 50% off of our services so that we can help more military families like the Andersons achieve the American dream by getting a franchise loan to start, expand, or refinance their small business. http://www.boefly.com/fundability/vetfran/
About BoeFly
BoeFly makes it easier to obtain small business loans (http://www.boefly.com/) by reducing the time, cost, complexity, inefficiency and frustration associated with small business lending. Its online proprietary matching technology connects small business borrowers with multiple lenders from among its more than 3,600 participating banks, based on the lending profiles provided by the banks and the information provided in the borrower's loan request.
Before seeking a loan business borrowers can find out their fundability and may get prequalified for a business loan through bQual™(http://www.bQual.com) . The bQual™ report will deliver a business borrower's FICO SBSS Small Business Credit Score (used by lenders nationwide and required for SBA loans), a personal consumer credit score and credit bureau report, and a detailed financing assessment of a borrowers fundability.
Integrating the bQual™ scores into the loan seeking process on BoeFly, borrowers can connect with multiple lenders quickly and easily, providing a greater probability of obtaining a loan, as well as more favorable loan terms resulting from the creation of a competitive marketplace. Lenders benefit by being presented with those loan requests that fit their lending profile, dramatically lowering their cost and time of origination. BoeFly is not a broker. Borrowers pay a small one-time fee and lenders pay an ongoing subscription fee.
BoeFly, now a strategic ally of the International Franchise Association to expand credit access within the franchise community (http://www.boefly.com/ifa.cfm), offers a Franchise Solution bringing these benefits to the large and growing small business franchisee community and is the choice of more than 125 brands, including Dunkin' Donuts, Carl's Jr., and Kiddie Academy, among many others.
BoeFly was founded by small business owners and small business lending experts with extensive small business lending experience. The company is privately-held and is based in New York City. http://www.boefly.com.
VetFran
VetFran® was founded in 1991 by the late Don Dwyer Sr. – founder of The Dwyer Group, to say "thank you" to our veterans returning from the first Gulf War. After the September 11, 2001 terrorist attacks, the International Franchise Association (IFA) re-launched a campaign to assist U.S. veterans and their families during the difficult time.
VetFran member companies have grown into a large network of over 650 franchise brands that voluntarily offer financial discounts, mentorship, and training for aspiring veteran franchisees and veterans seeking employment. VetFran's most recent survey shows that over 151,000 veterans and military spouses found opportunities in the franchise industry as either employees or franchise owners. There are over 5,100 veterans that have become franchise business owners since 2011.
As tens of thousands of service men and women return from overseas deployments, and are discharged from the military, expanded opportunities are needed to ensure veterans and their families can transition into the civilian economy.
The franchise business model provides comprehensive training opportunities, scalability, and the need for operational execution and excellence, offering an ideal career path to enable veterans to become productive participants in the U.S. economy. VetFran supports veterans and their spouses' ability to access franchise opportunities through education on the franchise industry, financial assistance, and industry mentorship.
ABOUT WILD BIRDS UNLIMITED
Wild Birds Unlimited is the original and largest franchise system of backyard bird feeding and nature specialty stores with more than 280 locations throughout the United States and Canada. Wild Birds Unlimited specializes in bringing people and nature together with bird feeding and nature products, expert advice and educational events. Wild Birds Unlimited recently ranked No. 9 overall and No. 1 in the Retail category on Franchise Business Review's prestigious 2014 Franchisee Satisfaction Awards Top 200 Franchises list. Visit our website and shop online at http://www.wbu.com. To learn how you can open your own Wild Birds Unlimited, visit http://www.wbufranchise.com.