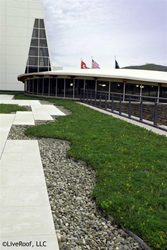 (PRWEB) November 10, 2014
The College at Brockport's Allen Plaza will be landscaped with a green roof over the coming week. A living, planted roof system will be installed as part of a plan to improve site enjoyment and sustainability. The LiveRoof® Hybrid Green Roof System was selected for the green roof system, which will be installed starting Tuesday, November 11 and continue through Thursday, November 13.
The Allen Plaza has undergone extensive restoration and enhancements since construction began earlier this summer. Renovations include addition of a drainage system for the deck surface, repair of damaged structural, mechanical and electrical components below the plaza, and addition of a covered walkway between Drake and Allen entrances. The site design by Flynn Battaglia Architects includes additions of seating and landscaped areas to improve the site's accessibility and enjoyment by students, faculty and staff.
"Green space is a high priority in our facilities development. The green roof is part of a renovation that reduces our environmental impact while expanding useful space," said Robert Henry, Assistant Vice President for Facilities and Planning at the College at Brockport.
Allen Plaza's new green roof will replace approximately 70% of the impervious concrete surface with plants.
According to Henry, "The green roof system acts like a sponge, soaking up rainfall and reducing the runoff from the site, having a positive impact on local water quality. In addition, the plants beautify and help to cool the rooftop, making it an enjoyable gathering place for students and administrators."
The modular green roof system will be delivered fully grown by Corso's Perennials, the regional grower for the LiveRoof system, and will be installed by a collaborative effort between Leo J. Roth Corporation and R.M. Landscape.
"The designer included several different soil depths and plant mixes in their design," said Gus Corso, president of Corso's Perennials. "We custom grew the green roof for this project, so the day it is installed, the landscape will be fully mature."
According to Corso's, 35 different plant species are included in the green roof system which totals 5300 square feet in size.
PHOTOGRAPHERS AND VIDEOGRAPHERS WELCOME. ARRANGE INTERVIEWS AND FOR MORE INFORMATION WITH DAN CARTELL, 216-408-9611, dan(dot)liveroof(at)corsosperennials(dot)com.
About The College at Brockport - Founded in 1835, The College at Brockport is a nationally recognized four-year comprehensive public college focused on student success. The 464-acre campus has 67 buildings occupying about one-quarter of the campus, with rolling grassy fields and wooded land. Brockport offers 49 undergraduate majors, 50+ master's degree programs, and teacher certification in 26 areas. Each year, The College at Brockport awards approximately 25 percent of all bachelor's degrees in the Rochester area, with many alumni staying in Rochester to work or attend graduate school.
About Corso's Perennials – Founded in 1941, Corso's Flower & Garden Center is a family owned and operated business in Sandusky, Ohio. Originally a retail greenhouse, it now includes 14 acres of greenhouse, 15 acres of outdoor production, and a retail flower shop, garden center and landscape department. To increase wholesale production of perennials, the company expanded to a second location with 70 acres of farmland in Castalia, Ohio. Corso's Perennials (http://www.corsosperennials.com), the wholesale division, grows over six million plants annually to supply perennials to a five-state area. Corso's Perennials serves as the LiveRoof licensed regional grower and distributor for Ohio and parts of Pennsylvania and West Virginia.
About LiveRoof - Based in Spring Lake, Michigan, LiveRoof® Global, LLC (http://www.liveroof.com) is the top horticultural science company in the green roof industry. Exceptional in design and function, the LiveRoof® Hybrid Green Roof System is the proven green roof system. LiveRoof establishes a healthy, sustainable ecosystem covering rooftops with seamless vegetation. Licensed regional growers customize plant selection for every LiveRoof project. They deliver the system's modules abundantly vegetated with locally cultivated, full-grown plants for an instant green roof and trouble-free ownership. LiveRoof has been used on over a 1000 projects totaling more than 4,000,000 square feet.