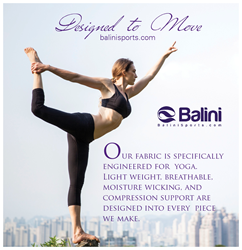 USA (PRWEB) November 10, 2014
BaliniSports Signs on to Support the Regional USA Yoga Asana Championship
BaliniSports is now an official sponsor of the Regional USA Yoga Asana Championship. This series of competitions was created by the United States Yoga Federation to showcase the top athletes in the world of yoga from across the country. The events featured are designed to foster healthy competition and increase awareness of ancient yoga practices.
"We are so proud to be sponsoring and promoting the passionate and dedicated participants in this season's Regional USA Yoga Asana Championship," said BaliniSports founder, Ada Hung. "I will be personally attending events in California, Oregon, Washington and Arizona. The spirit of excellence found among the athletes in attendance is something that we hope to share with the women who love and wear our yoga clothing at the gym or during daily life."
The United States Yoga Federation is a non-profit organization that hopes to use support from respected figures and retailers in the yoga apparel industry to promote the practice of yoga as a sport. Observers in the crowd will be able to witness the physical endurance and spiritual discipline each participant in the competition must exhibit in order to meet the demands of each judge's requirements. Participants will be judged based on posture, form, breathing techniques, balance and flexibility. There are hundreds of other key details outlined in the organization's official judging guidelines.
The decision for BaliniSports to support the Regional USA Yoga Asana Championship came after Hung learned of the organization's mission to give yoga enthusiasts a forum to display their talents, passions, and skills. "The spirit behind this national competition is the same spirit that drives me to design and produce beautiful and cutting-edge yoga clothing for women around the world," Hung stated. "I am excited to attend upcoming events because I know I will find inspiration for future designs in every graceful movement, outstretched arm, drop of sweat, and glowing smile I see out there on the main floor."
This season's Regional USA Yoga Asana Championship will feature competitive events throughout the country from now until 2015. You can learn more or view a calendar of events on the organization's website. You can browse yoga apparel, view articles related to yoga trends and techniques, or read updates from Ada Hung regarding upcoming collections by visiting the BaliniSports website.