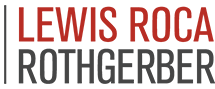 Phoenix, Arizona (PRWEB) November 10, 2014
Lewis Roca Rothgerber LLP proudly announces that it has been recognized as a top litigation firm in the 2015 edition of Benchmark Litigation, an annual guide to America's leading litigation firms and attorneys. The firm was listed as "Highly Recommended" in Arizona, Colorado and Nevada.
In addition, 17 partners were honored as "Local Litigation Stars" or "Future Stars":
Arizona:
Robert Charles
Carla Consoli
Kimberly Demarchi
Susan Freeman
John Iurino
Robert McKirgan
Randy Papetti
Bruce Samuels
Robert Schaffer
Jesse Simpson
Jon Weiss
Colorado:
Frederick Baumann
Scott Browning
James Lyons
Nevada:
Von Heinz
Daniel Polsenberg
Daniel Waite
Lewis Roca Rothgerber recently announced that Susan Freeman was listed in the 2015 edition of Top 250 Women in Litigation by Benchmark Litigation, one of only four attorneys in Arizona named to the prestigious list.
Lewis Roca Rothgerber's litigation practice is comprised of more than 100 attorneys in nine offices who work together to handle virtually all types of disputes before state and federal trial and appellate courts and administrative tribunals. Lewis Roca Rothgerber's attorneys have successfully handled complex matters involving multiple parties, multiple jurisdictions, substantial economic claims and some of the most challenging legal issues.
About Benchmark Litigation
Benchmark is the only publication on the market to focus exclusively on litigation in the U.S. The guide's results are the culmination of a six-month research period that allows researchers to conduct extensive interviews with litigators and their clients. During these interviews, recent casework handled by the firm is examined and sources are asked to offer their professional opinions on litigators practicing within their state or national practice areas.
About Lewis Roca Rothgerber LLP
Lewis Roca Rothgerber LLP is one of the largest law firms in the Western U.S. The firm maintains thriving practices in intellectual property, litigation, real estate, business transactions, gaming, banking, bankruptcy and energy and natural resources with more than 250 attorneys across nine offices including Phoenix, Albuquerque, Casper, Colorado Springs, Denver, Las Vegas, Reno, Silicon Valley and Tucson. For additional information, please visit http://www.LRRLaw.com.