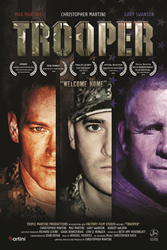 "This movie is neither for the war or against it. It is 100% for the troops." - Christopher Neff, Former Lance Corporal, USMC, Infantry OIF 2003-2005
New York, NY (PRWEB) November 10, 2014
Award-winning Director Christopher Martini and the filmmakers are thrilled to announce the release of "Trooper", the film veterans say tells their story more honestly and accurately than ever before, dealing with what really happens to them, both on the front lines and when they return home. It's a story of love and horror amidst the scandals reflected in the news across the nation every day. Emotional and compelling, this long-awaited film has screened extensively for veteran groups and at film festivals across the country. Finally, "Trooper" is available to everyone for streaming or download at: https://vimeo.com/ondemand/trooper.
"Finally, a film producer that gets it right! "Trooper" may serve well to educate an unaware public about the epidemic level of emotional trauma that today's young warriors are living with. It is a dark journey and this film captures its pain—and also gives us a glimmer of hope."
– Rev. Bill McDonald, Vietnam Veteran, author, and Founder, The Military Writer's Society of America
"Not since the Oscar winning film "Coming Home" thirty-five years ago has there been a film that resonated with veterans."
– Starpulse
Winner, Bronze Remi, 2010 – Houston Int'l Film Festival
Winner, Christopher Martini, Renaissance Man Award, 2010 – Garden State Film Festival
Official Selection, 2010 - Philadelphia Independent Film Festival
Honorable Mention, 2011 – Voice Awards
Honorable Mention, 2010 – SoCal Film Festival
Script Finalist, 2008 – Rome Independent Film Festival
Stream or download Trooper now at Vimeo On Demand: https://vimeo.com/ondemand/trooper.
Cast: Christopher Martini, Max Martini "Saving Private Ryan," "Captain Phillips," "Pacific Rim," "Fifty Shades of Grey," Gary Swanson "The Bone Collector," "Sniper," "Carlito's Way: Rise to Power," Robert Walden "All The President's Men," "Capricorn One," TV's "Lou Grant" (Emmy Award Nominee)
Written, Directed, and Produced by
Christopher Martini
Executive Producers
Giada Dobrzenska
Richard A. Levine
LTC Lori D. Renwick
Christopher Martini
Produced by
Beth Amy Rosenblatt
Co-producer
Richard A. Levine
Music by
Hershel Yatovitz and featuring songs by Bob Dylan, Bruce Springsteen & Jessi Robertson
Cinematography by
John Rotan
Edited by
Rodney Calhoun
Re-Recording Mixer & Score by
Christopher Koch (Emmy Award Winner)
Additional Score by
Chris Haskett
Triple Martini Productions, Inc. was formed in 1996, In New York City. We are three siblings, Christopher Martini (writer/director/producer) "The Stone Child," "Trooper," Michelle Martini (Costume Designer) "Scary Movie 2," "The 25th Hour," and Max Martini (actor) "Saving Private Ryan," "Pacific Rim," "Captain Phillips," "Fifty Shades of Grey." We tell thought-provoking and deeply moving stories of social significance, which give a voice to the underrepresented communities of the United States.
To stream or download Trooper, visit Vimeo On Demand: https://vimeo.com/ondemand/trooper.
Triple Martini Productions, Inc.
Prince Street Station
PO Box 113
New York, NY 10012
http://www.triplemartiniproductions.com
For More Information:
Christopher Martini
917 478 4211
triplemartiniproductions(at)gmail(dot)com