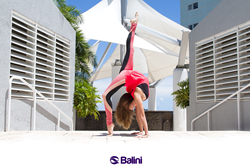 Los Angeles, CA (PRWEB) November 14, 2014
BaliniSports is announcing that the release of the brand's upcoming collection has been delayed. The news comes following the announcement that a highly anticipated new collection would feature yoga apparel that was designed to work with everyday outfits. The plans for the collection required unique production methods and a team of fabric specialists for completion. Only a few teams in the apparel industry are able to accommodate the brand's commitment to producing clothing without harsh chemicals and dyes. BaliniSports credits the delay to the fact that the brand's manufacturer was unable to fulfill the order in time for the collection to be released on schedule. BaliniSports uses the same factories as the world's leading names in sports apparel.
"The delay is partly due to our commitment to offering only the best to our clients," said BaliniSports founder and president, Ada Hung. "We refused to go a subpar route when the normal factory alerted us to the fact that the order couldn't be fulfilled. Our customers know we only work with environmentally friendly and socially conscious manufacturers. We won't compromise by bringing our order to another fabric mill and using dyes and chemicals that go against our principles just so we can push the collection out in time."
Since BaliniSports is a small brand among giants at the facilities that produce the line's merchandise, the order was given the lowest priority on the production schedule. As a result, the order was never fulfilled. Hung is currently working with managers to correct the situation and get the line out to devoted customers sometime in the near future. Hung has been traveling back and forth between Los Angeles and Taiwan in order to collaborate with managers on creating a feasible production schedule.
Hung isn't discouraged by the setback. "I hope this can show our customers how challenging it is for a small company to deliver quality products that don't harm the planet," she said. "The odds being stacked against us won't slow us down in our commitment to giving women the best yoga apparel possible." While the future collection in on hold for now, customers can still visit the BaliniSports website to purchase popular pieces of yoga apparel from the current collection. Hung encourages customers to fall in love with the classic yoga pants, tank tops, bras, and shorts that have created a devoted celebrity fan base around the brand. Customers can stay informed about the progress of the latest collection by visiting the brand's website or following Ada Hung on social media websites.