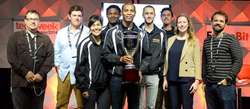 Quicklegal takes home the prize.
Los Angeles, California (PRWEB) November 21, 2014
One of the many highlights in the tech world in California is the annual TechWeek Competition. Startups from around the state apply to compete and only 60-80 are chosen to come and participate in the competition. Yesterday competitors took the stage to pitch, display and demo their new apps. The TechWeek competition took place in Santa Monica on the Pier, and has been sponsored by companies such as American Airlines, Google, Facebook, IBM, Dropbox, Tesla and many more.
The winning company has developed a unique app that allows users to have access to on demand video chat instantly with any type of lawyer they need. The winner was Quicklegal of Sacramento, California. They received cash and prizes valued at $50,000 as well as a mega trophy.
Quicklegal is currently raising $1,000,000 on Angel.co and is surely showing early signs of success. Quicklegal just launched last month and is currently in their "soft launch" phase only offering services in California. The company also is featured on the cover of this months issue of California Lawyer. Once downloaded, users select the category and location they need legal advice in, enter billing information and are instantly connected to a live attorney that specializes in that area of law. Users can video chat, audio call or privately message the attorney.
The Finalists in the competition were: NextUser, AIO Robotics, Tether & Therabiologics,
To check out this years TechWeek winner download the Quicklegal app which is available on the iTunes App Store and Google Play or visit them online at http://www.Quicklegal.com