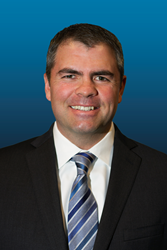 'Wesson brings to this position a broad background in operational accounting, application of technical accounting issues and the implementation of financial processes and controls.' - Chris Philpott, CFO
Denver, CO. (PRWEB) November 10, 2014
First River Energy LLC, a crude oil gathering and marketing company focused on independent crude oil producers, today announced it has named Wesson Liversage, CPA, as corporate controller. In this role, Liversage will supervise and lead the accounting, internal control and financial reporting functions for the company.
"Wesson brings to this position a broad background in operational accounting, application of technical accounting issues and the implementation of financial processes and controls," said CFO Chris Philpott. "I look forward to working with him to build a strong financial framework to support our company as we evolve the crude oil logistics business to provide producers with the tools they need to seamlessly connect with their markets."
Before joining First River Energy, Liversage was the manager of financial reporting and SEC compliance at Magellan Petroleum Corporation, a publicly traded exploration and production company. Liversage joined Magellan after nine years of public accounting experience at Grant Thornton, where he left as a manager in their audit practice.
"First River Energy provides the infrastructure and real-time information crude oil producers need," Liversage said. "I look forward to working in a fast-paced environment in a growing industry and establishing a sound accounting and regulatory platform that will contribute to the company's success."
Liversage is a certified public accountant and has an undergraduate degree from the Nelson Mandela Metropolitan University and a postgraduate degree from the University of KwaZulu-Natal in South Africa, both majoring in accounting.
Learn more about oil gathering and marketing solutions for small independent crude oil producers and end users at http://www.FirstRiverEnergy.com.
About First River Energy
First River Energy is a Denver-based based crude oil midstream company focused on evolving energy logistics through seamlessly connecting producers to markets. For more information, visit http://www.FirstRiverEnergy.com.
First River Energy contact:
info(at)FirstRiverEnergy(dot)com
+1 (720) 545-2266
2000 S. Colorado Blvd., Suite 3000
Denver, Colorado, 80222, USA
Media contact:
Stacey Hartmann
Stacey Hartmann Communications Inc.
303-880-8451
Stacey(dot)hartmann(at)gmail(dot)com