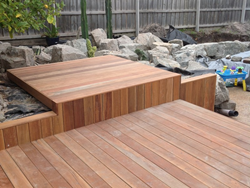 Melbourne, Victoria, Australia (PRWEB) November 11, 2014
As spring rapidly turns to summer, local residents of Melbourne are running out of time to renovate their outdoor entertainment spaces. With the growing popularity of decking, pool, and landscaping options in Melbourne, the city's residents are engaged in a renovating frenzy as they attempt to create the perfect summer haven in their own backyards.
Pool cleaning and decking re-designs have proved the most popular summertime renovations in Melbourne, with the majority of residents turning their attention to immaculate outdoor landscaping and design in order to impress their party guests.
"Everyone waits until the last minute" said Chris Taylor, owner of Decking Melbourne, a company that recently announced the launch of its new glass pool fencing and slatted timber fencing options.
"While we can usually accommodate smaller projects quickly, people interested in glass pool fencing or slatted timber fencing need to schedule their installation as soon as possible, since this tends to be our busiest time of year."
The new offerings, which were added to the company's service list this spring, have already surpassed their more traditional decking options in terms of popularity.
Timber screens and fencing are used to enhance privacy and create a luxurious backyard environment without breaking the bank. This spring, timber in every shade and thickness, from River Reds to Spotted Gum, has begun to dot Melbourne's backyards.
"The subtlety of shading in this timber is incredible" said Mr Taylor. "Choosing wood with red undertones instead of yellow can completely change the ambience of your yard. It's amazing how a simple slatted fence install ties the entire yard together."
But the best backyards in Melbourne have more to boast in terms of eye candy than slatted timber fencing alone. With its chic, ultra-modern design and ease of install, glass pool fencing has become another must-have addition from Decking Melbourne.
Available in frameless, semi frameless and full frame options, glass pool fencing can be installed on nearly any type of surface. Coupled with the fact that this high end option now only starts at just $300 per lineal metre, it's no wonder many pool owners are making the switch to glass.
For those looking to spruce up the yard without a major renovation, stainless steel spigots added to the pool add a dash of elegance that permeates the entire yard. Timber posts are another great option for those seeking just a touch of timber in just the right place.
As with most things, it's just the little touches that make a big difference, especially when it comes to outdoor design. For the sun loving residents of Melbourne, this summer is certain to see many new and great backyard designs once again.
For more information on our services, visit Decking Melbourne.