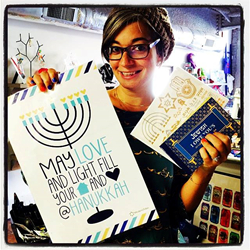 ModernTribe's mission is to offer creative products that help modern Jews to express their faith and keep our traditions alive, meaningful and fun.
Atlanta, Georgia (PRWEB) November 10, 2014
After eight years running the Judaica retail store, ModernTribe.com, Jennie Rivlin Roberts knew that good-looking Hanukkah decorations are hard to find, each year empathizing with customers' frustrations. Last spring Rivlin Roberts began developing festive and decorous Hanukkah designs and, after several iterations and feedback from customers, ModernTribe finally choose the "Light, Joy, Latkes" design as the basis of their Hanukkah Partyware Collection.
ModernTribe.com's "Light, Joy, Latkes" Collection includes plates, eating utensils, Happy Hanukkah banners, posters, cupcake/appetizer toppers, greeting cards, and Hanukkah Gold & Silver Metallic Temporary Tattoos, similar to the popular Flash Tattoos™. The Hanukkah Partyware Collection follows other Jewish product design hits including No Limit Texas Dreidel (the game that crosses No Limit Texas Hold'em with traditional Hanukkah dreidel) and last year's line of Thanksgivukkah items that included the Woodstock-inspired tee shirt and Grant Wood's American Gothic parody poster that featured a pilgrim and Rabbi couple.
PARTIAL PROCEEDS TO CHARITY
ModernTribe will continue its practice of giving back. Last year, as a result of Thanksgivukkah sales, ModernTribe was able to donate $20,000 to MAZON: A Jewish Response to Hunger, a national nonprofit organization working to end hunger among people of all faiths and backgrounds. This year, ModernTribe is partnering with a dozen Atlanta organizations to donate 10% of store sales to their organizations.
"ModernTribe's mission is to offer creative products that help modern Jews to express their faith and keep our traditions alive, meaningful and fun." says Rivlin Roberts. "A beautiful and festive Hanukkah table helps bring joy into the home when the family sits down together."
A NEW BRICK & MORTAR STORE IN ATLANTA
In June of this year, ModernTribe opened its brick & mortar on historic Auburn Avenue in Downtown Atlanta, on Atlanta's new streetcar line. Currently the store is nearly 100% dedicated to Hanukkah except for a small "end cap" of Christmas items for its non-Jewish customers. "We thought it would be fun and funny to give our non-Jewish shoppers a little taste of what it is like for a Jewish person during Christmas in America," says Rivlin Roberts. "Really, it is to better serve the neighborhood, whose residents are mostly not Jewish and shop with us for their Jewish friends or because they connect to their Old Testament, enjoy Hebrew, or appreciate Jewish culture."
ModernTribe's store is located at 171 Auburn Avenue NE, Suite G, Atlanta, GA 30303 and is open daily from 11-6pm. Directions and parking information can be found on the website.
ABOUT MODERNTRIBE
ModernTribe brings fresh, design-forward and trendy Jewish gifts and Judaica to the new Jewish generation online at ModernTribe.com (since 2007) and, since June of 2014, at its brick & mortar store in Atlanta, GA.