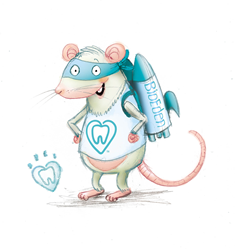 (PRWEB UK) 9 November 2014
In the UK every child is familiar with the Tooth Fairy, a fictitious fairy that gave nothing more than a sixpence for a lost baby tooth, or a pound depending on their age and powers of negotiation! However, Bioeden's Super Tooth Fairy has started to exert her powers and is educating parents on the real value of a tooth, through heir tooth stem cell banking services.
However, in Mexico, Slovenia, and other countries that invest heavily in tooth stem cell banking, the Super Tooth Fairy is an alien creation. It is a mouse that is the creature who steals the tooth from under their pillows, and with that in mind, today we celebrate with BioEden the 'birth' of 'Eddy Eek BioSqueek', a fictitious mouse, and a medical student of some standing who will take stem cell education to Slovenia, Mexico and beyond.
To discover more about BioKidz visit http://www.bioeden.com