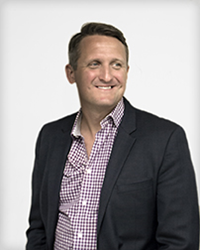 Austin, TX (PRWEB) November 11, 2014
nFusion welcomes Matt Huser as managing director to lead the agency's teams across account service, strategy, marketing and business development. Huser brings nearly 20 years experience connecting consumers with brands they love — including Coca-Cola, Procter & Gamble and NASCAR — during stints with WPP, Proximity-BBDO and Sapient.
"Matt is a perfect fit to lead nFusion and help our client brands rise to the challenge of delivering personalized, in-context experiences for their customers," shared nFusion CEO John Ellett. "His experience leveraging marketing strategy and technology to connect brands to consumers is right in line with how nFusion operates."
Huser joins nFusion during a great year for the Austin agency. Recognized as an Ad Age Small Agency of the Year and one of the Davey Award's Best-in-Show winners, nFusion has nurtured long-term relationships with brands like Samsung, SanDisk and AMD as well as adding new clients across a variety of verticals, including la Madeleine and Memorial Hermann Healthcare System.
"Steering nFusion to be a nationally recognized agency brand is a challenge I am eager to take on," Huser said. "We're going to define modern marketing by doing some amazing things for our clients."
Huser, his wife and two sons recently moved to Austin from New York. "Austin is an exciting place to be," says Huser. "It's one of the fastest growing markets in the country because of the lifestyle it offers and the growing career opportunities in technology and creative fields."
To learn more, see Matt's blog post at http://nfusion.com/blog.
About nFusion
nFusion is a digital agency that partners with marketing change agents to help them make an immediate and measurable impact for their organizations. nFusion architects customer experiences based on a new model, one that asserts that digital interactions and social conversations throughout the customer decision journey shape how people establish brand preference and, ultimately, make purchase decisions. These experiences include online and mobile display ads, paid search and paid social campaigns, Web, mobile-enabled and responsive sites, owned content, and social media strategy, activation and community management. Headquartered in Austin, Texas, nFusion is proud to support AMD, la Madeleine, Memorial Hermann, Samsung, SanDisk and other brands. nFusion can be found online at nfusion.com, and on LinkedIn, Facebook and Twitter.