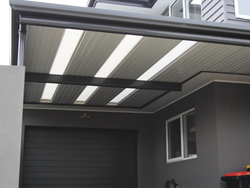 Melbourne, Victoria, Australia (PRWEB) November 18, 2014
An increasing number of Melbournians are swapping expensive residential renovations for a single, strategic addition to their homes: the installation of a carport.
These attractive, affordable structures are said to escalate a home's value while providing additional protection from environmental damage, making carports an increasingly common site in the greater Melbourne area.
"The benefits of a new carport go way beyond what most people think of," said Chris Taylor, owner of Carports Melbourne, a company that provides affordable carport installations in Melbourne. "It's not just about making your home look better or increasing its value. Carports help protect your residence, your family, and your vehicle from the elements."
By offering cover from rain, hail, sun, wind and extreme weather events, carports provide a myriad of protection for homes, vehicles, and residents alike. Carports also shield vehicles from falling trees, and offer an extra measure of security for children, singles, and the elderly by creating the shortest distance possible between their vehicle and the entrance to the house.
For many homes in Melbourne, the addition of a carport creates extra storage, work, or organization space.
"We have other customers who uses their carport as a tool sheds," said Mr Taylor, "while others use it to store boats, trailers, motorbikes and more. Many families use the space to entertain because the shade provided from the carport creates the perfect spot for a BBQ."
The most popular carports in Melbourne are constructed from either timber or steel. Some opt for a pergola style carport using either shade cloth and or vines, a great way to go if constrained by a smaller budget.
Timber carports allow residents to install rich shades of wood that complement their home and surrounding landscaping. Steel carports offer a sleek, modern look for the discerning home owner who wants the ultimate in security and design. Both carport types can be customized based on size, dimensions, roofing materials, and home layout.
Further customization is available still through companies like Carports Melbourne, by providing painting options so that residents can match their existing house colors or modernize the front of the property.
Rich-hued timber, sturdy steel, custom paints job and the choice of a freestanding or attached carport all add up to a significant increase in a home's value. Home owners who lack a garage can have an affordable carport installed for a fraction of the cost, and attract buyers who would have otherwise passed over the property. Additional storage space, extra workspace, and the acquisition of a patio area can all be achieved without having to invest in traditional home additions or major renovations.
For a growing number of Melbournians, installing a carport has become the most valuable and beneficial home addition they could possibly make.
For more information on our services, visit Carports Melbourne.