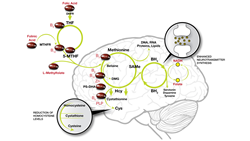 "JayMac Pharmaceuticals is honored to be included in this distinguished publication." Angela Hall, JayMac
Sunset, LA (PRWEB) November 10, 2014
EnLyte was featured in the October 2014 Journal of Psychosocial Nursing and Mental Health Services Product Update. The Journal has been in publication for 50 years, published monthly, and is considered a primary source of knowledge for mental health nurses in a variety of settings.
"New Folate Replacement Therapy May Reduce Fatigue" reviewed the findings of an open label trial done by Arnold Mech, MD in which EnLyte® was added to 60 patients in an outpatient psychiatric setting, who had tested positive for one or more variants of the MTHFR enzyme polymorphism. After 4 weeks of taking EnLyte, patients reported significant improvements in sleep quality with a 22% reduction in fatigue and a 41% reduction in impaired frustration tolerance and impulse control.
Folate synthesis is critical to neurotransmitter production. About 60% of the U.S. population have the MTHFR enzyme polymorphism, which inhibits the body's ability to break down folate into it's usable form-L-methylfolate- to produce these neurotransmitters. Folate therapy is recommended by the American Psychiatric Association as an effective choice in depression treatment when added to an SSRI/SNRI for Major Depressive Disorder. This trial supports the use of EnLyte as a natural approach in managing fatigue and associated sleep problems, especially when traditional sleep aids can cause dependency and a range of side effects.
About EnLyte
EnLyte is an FDA-regulated prescription folate therapy containing brain-ready, reduced forms of folate and critical, reduced b vitamin cofactors-b1, b2, b3, b6, b12, betaine, plus ps gold omega 3's, zinc, magnesium, and vitamin C. It is covered by Tricare, many state Medicaid plans, and most private insurance plans with a national average copay of $44/ month. Visit http://www.EnLyteRx.Com for more information or call our customer service line at 985-788-7755.