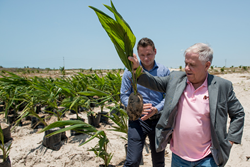 I can see why the UN called Neem the tree of the 21st century (Jim Rogers)
(PRWEB) November 09, 2014
Jim Rogers, the co-founder of the Quantum Fund and long-term specialist in agricultural commodities, joined Liquid Investments as a Keynote Speaker and Chief Guest at their Plantation Tour and Primal Investing Summit 2014.
Joined by a selection of business leaders, academics and the Liquid team, Jim Rogers reaffirmed his passion for agricultural investments and explained how it will be the producers and providers of capital who will reap the rewards of rising demand for food and food-related products.
The world is consuming more than it is producing. And what we eat is costing more – the United Nations (UN) reported food prices have doubled in the last decade. The UN predicts that the world population will be somewhere between 9.6 billion and 12.3 billion by the end of the century. By 2100, there will be an estimated 5.3 billion extra mouths to feed.
"Supply and demand for agriculture is out of whack," Jim Rogers said.
"Brazil", he noted, "has plenty of water, plenty of rich soil, it has got huge natural resources, so of course the country is going to continue to be a supplier of agricultural products and probably more in the future than now".
Touring Liquid Investments' Coconut and Neem plantations in Brazil, Mr. Rogers commended the owners for having the "foresight to see the great opportunity that agriculture presents."
For more on his commentary on Liquid's plantations and the attractions of global agriculture, please see their newly released Jim Rogers video.
For more information, visit the Liquid Investments website. If you would like to get in contact with one of their Investment Consultants, please request a callback.
Note to Editors:
Liquid Investments is a provider of global investment solutions allowing institutional and private investors the opportunity to accumulate wealth through safe and secure alternative investments in emerging markets.
Founded in 2006, the organisation is headquartered in Knightsbridge, London and with an office in Fortaleza, Brazil.
For further information:
Jayshree Badhan, Chief Marketing Officer – Jayshree.Badhan(at)liquid-investments(dot)com