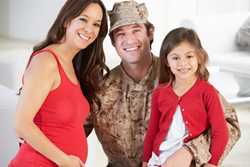 These loans can also be granted without the buyer needing to purchase private mortgage insurance.
Chicago, IL (PRWEB) November 09, 2014
The Federal Savings Bank, a veteran mortgage lender, was proud to read a recent U.S. Department of Veteran Affairs report from the end of October stating that it had guaranteed its 21 millionth home loan since the beginning of the Home Loan Guarantee program in 1944. The immense number of VA loans given to servicemen and women illustrates how beneficial these lending options are to the U.S.
In the 2014 fiscal year, the VA guaranteed about 35,000 mortgages per month and helped almost 80,000 borrowers avoid foreclosure. The VA Home Loan Program also approved 1,253 grants for veterans with disabilities to modify their homes to meet their needs.
Benefits of VA home loans
The VA Home Loan Program helps veterans become homeowners when they otherwise might not qualify for a traditional mortgage. While most home lending scenarios require a large down payment, VA mortgages can be secured with a small or no down payment. This helps veterans invest in their futures even when they've been unable to save 15 to 20 percent of a home's value - which can be a substantial sum. Veterans also won't be turned down for a mortgage based on their credit scores alone, as pointed out by Military.com. Most lenders follow strict rules regarding necessary credit scores, which generally need to be higher than 720. The VA, and the Federal Savings Bank looks at the veteran's past year of credit history instead and takes into account his or her entire financial situation.
VA loans reduce other homeownership costs for veterans as well. These mortgages often have lower interest rates and reduced closing costs compared to conventional mortgages. In some cases, the seller may pay closing costs. These loans can also be granted without the buyer needing to purchase private mortgage insurance. All of these factors - interest rates, closing costs and mortgage insurance - can often hinder a veteran from purchasing a home.
An additional benefit not seen in many traditional mortgages is that the homeowner won't be penalized for paying the loan off early.
VA guaranteed
While most VA home loans are provided through a private lender, the mortgage is backed by the VA. This means if the homeowner has trouble making payments, the lender can go to the VA to cover its losses - not just the veteran.
Veterans interested in taking advantage of a VA-backed mortgage should contact Federal Savings Bank, a veteran owned bank, to learn about their options.