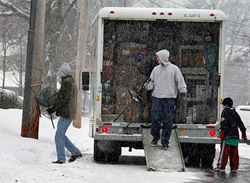 To avoid the stress of deciding what to keep and what to throw away at the last minute make sure you sort through all the clutter a week beforehand
Chicago, IL (PRWEB) November 09, 2014
Peoples Home Equity knows that it's not always possible to move during the spring or summer months when home sales are frequent. Based on the lenders view that this winter should be seasonally strong in terms of home sales, it decided to offer some helpful tips for the cold moving process.
Winter is cold, especially in the Midwest. Moving is physically strenuous and stressful. Both of a these factors are a bad combination.
Be Prepared: Moving at the last minute can be hectic. To avoid the stress of deciding what to keep and what to throw away at the last minute make sure you sort through all the clutter a week beforehand. Pack everything into sturdy, easy to move boxes a week before moving date.
Choose A Good Day To Move: Do not be irrational and move on a day when the weather is expected to be particularly hazardous, like a heavy snow day, or during an ice storm.
Hold The Doors Open: One wants the moving process to run smoothly. Putting boxes on the floor just to open closed doors every time when moving to the truck is annoying, especially in cold weather. Use a rubber door stopper or a heavy box to hold the doors open. Be sure to set up protective pads or mats over icy or slipper areas. If snow is on the ground be mindful that wet shoes will make the ground slippery particularly in a title floored home.
Do Not Rush Through The Process: Running or jogging during the moving process is particularly dangerous. Walk carefully through pathways to avoid tripping on steps, ladders, or clutter.
Do Not Lift Heavy Furniture Alone: One does not need to be the hero of the moving day by lifting the TV all by themselves. Instead ask someone like a neighbor, friend, or family member to help move heavy objects. This is the responsible and safe way to move. Also remember to wrap padding or blankets around wooden or electronic items that can get chipped or damaged while moving around walks or stacking in the loading truck.
Consider Using A Moving Company: Perhaps the entire process of moving during the winter is overwhelming. In this case, make sure the moving company is ready to work for you! Check if the moving company has a flexible rescheduling policy. In addition, make sure the company has insured employees in case of an injury.
Set Up The Bedroom and Bathroom First: Once moved into the new home, one may be exhausted and tired. Leave the rest of the unpacking process for the next day. Set up the bed and unpack toiletries first so that you can rest.
Contact a Peoples Home Equity loan officer today at: 262-563-4026