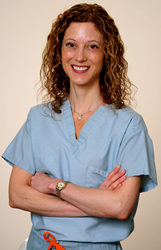 "Our mission is to significantly shrink the incontinence products market," said Pauls. "But our biggest obstacle to success is that women are not aware of their options beyond adult diapers and other costly alternatives."
CINCINNATI, Ohio (PRWEB) November 10, 2014
Surgeons at Cincinnati Urogynecology Associates, a TriHealth Physicians partner, want to let women know that there there are medical options for women suffering from overactive bladder outside of incontinence products.
National Bladder Health Week is Nov. 10 through 14, and Dr. Rachel N. Pauls said her practice wants to educate women about their pelvic floor disorders. Pauls said women who have to go to the rest room more than eight times a day may have an overactive bladder that requires medical attention.
Pauls and colleagues at Cincinnati Urogynecology Associates are faculty for the fellowship program in Female Pelvic Medicine and Reconstructive Surgery at TriHealth. Nationally theirs and other fellowships are training more than 100 surgeons in procedures that directly address this treatable condition. 
"Our mission is to significantly shrink the incontinence products market," said Pauls. "But our biggest obstacle to success is that women are not aware of their options beyond adult diapers and other costly alternatives.  Marketing by large corporations leads women to believe there are not appropriate cures for their condition, and that it may be normal to live with incontinence. This doesn't have to be the case." 
Pauls said some women make light of their frequent trips to the bathroom by saying they have small bladders, but that is a misnomer. "The bladder has a muscle in its wall, and the muscle squeezes to signal you when it's time to go. With an overactive bladder, the message is coming earlier—at the wrong time-- fooling you into thinking that it is actually full. We call this a bladder spasm. It happens when the brain-bladder connection is not working well.
"As you go to the bathroom more frequently, your bladder remembers, so you are really training it to hold smaller amounts," she added. "You can stretch your bladder by not giving in to those urges. Think of an overactive bladder as an undisciplined child. Give in to it and it will rule your life. You have to get it under control."
While some women may use the bathroom frequently because of anxiety or emotional problems, at some point the problem can become physical.
Pauls said women, especially those who are post-menopausal or over the age of 60, may begin to feel the urge to urinate too frequently, Overactive bladder can also be a reaction to stroke or back surgery, which can affect the nerves to the bladder.
"Sometimes women with an irritable bladder can see progress by eliminating the 'four Cs' from their diets," said Pauls. "Those are coffee, chocolate, citrus and carbonated drinks; however, if a woman knows where every bathroom is located between home to work, for example, which is known as 'toilet- mapping,' or her urgency, frequency and urge- related accidents are interfering with her quality of life, then it is time to see a medical professional."
Pauls said many women can be helped with medicines, bladder training, physical therapy and diet changes. For those who need more help, two recent outpatient medical innovations that can alleviate overactive bladder include Botox and implantation of a bladder pacemaker/nerve stimulator.
Botox is used for facial wrinkles, but it works with bladder problems, too, because it relaxes the bladder muscle and prevents spasms. But like Botox used for cosmetic purposes, the effects last only about six months. Botox is injected into the bladder muscle through a tiny needle attached to a camera that is inserted into through the urethra. It can be done in a hospital or urogynecologist's office.
"Botox works similar to or better than medication," said Pauls. "The procedure is approved by the Food and Drug Administration for overactive bladder symptoms. It requires pre-authorization from insurance companies, but is generally covered."
Another medical option is insertion of a bladder pacemaker known as Interstim (Medtronic). When nerves to the bladder aren't functioning properly, the pacemaker balances the signals to help eliminate spasms, said Pauls.
"It is more effective than medications for overactive bladder," said Pauls, "and an advantage is that it can be tested with a temporary stimulator first."
Placing the permanent device is an hour-long procedure performed while a patient is under sedation in the hospital. The pacemaker is FDA-approved for urge incontinence, urgency frequency, non-obstructive urinary retention and fecal incontinence, but it may also help with constipation, said Pauls.
Up to 40 percent of women nationally suffer from overactive bladder at some point in their lives. Cincinnati Urogynecology Associates is trying to improve those statistics through research and education.
Pauls and partners Steven D. Kleeman, MD, and Catrina C. Crisp, MD, engage in medical research and provide patient evaluation, physical therapy and traditional and non-invasive robotic surgery for patients with pelvic prolapse and incontinence.
Cincinnati Urogynecology Associates has offices in West Chester; Clifton at Good Samaritan Hospital; and TriHealth Fitness and Pavilion in Montgomery. The physician group specializes in women's pelvic floor disorders.
For more information about Cincinnati Urogynecology Associates, call (513) 463-4300 or visit http://www.CincinnatiUrogynecology.com.
Contact: Deborah Ramsey
Phone: (513) 862-4171
More about TriHealth
TriHealth is hospitals, physicians and the community working together to help people live better. We provide clinical, educational, preventive and social programs through Bethesda North, Bethesda Butler, TriHealth Evendale and Good Samaritan hospitals and more than 130 other locations throughout Greater Cincinnati. This includes an ambulatory network, physician practices, research division, employer-based health services, hospice care, and fitness and health facilities. Learn more at trihealth.com, Facebook.com/TriHealth, @TriHealth on Twitter, Pinterest.com/TriHealth and at YouTube.com/TriHealth.