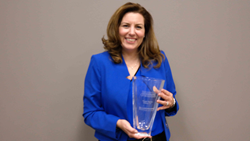 "To be recognized is such an honor as it is my vision to ignite passion and bring joy and purpose to people through their work."
Libertyville, Illinois (PRWEB) November 10, 2014
In recognition of her commitment to professional excellence and her community, Nicole Martin, CEO and founder of HRBoost, has been honored by the Daily Herald Business Ledger's 17th Annual Influential Women in Business Awards. The recognition ceremony for the award was held on November 5 at NIU Naperville.
Presented by the Daily Herald Business Ledger in partnership with the National Association of Women Business Owners and Women's Innovation Network, the Influential Women in Business Award recognizes suburban businesswomen who have excelled in business, civic, and personal arenas.
One of fifteen 2014 honorees, Martin was recognized for her leadership of HRBoost, which she founded in 2010. The award also celebrates Martin's role as a sought-after public speaker, thought leader, and advisory board member for Chicago's 101 Best and Brightest Companies to Work For™.
"To be recognized is such an honor as it is my vision to ignite passion and bring joy and purpose to people through their work," said Martin, who was presented with the award at the recognition ceremony. "If this award helps me to remind one more person they too deserve to live inspired, what a gift!"
Martin and her fellow honorees will be profiled in a special issue of the Daily Herald Business Ledger on December 8, 2014.
About HR Boost
HRBoost offers a full range of human resources services on both a consulting and outsourced basis. Utilizing unparalleled professional resources and expertise, HRBoost delivers a hybrid and customized service that achieves alternative solutions allowing clients to supplement, enhance, or boost their internal team. From human resources guidance to the implementation of a complete human resources support system, HRBoost provides effective solutions based on best practices. For more information, visit http://www.hrboost.com or call 847-736-5085.
About the Daily Herald Business Ledger
The Daily Herald Business Ledger is the leading provider of business news and information about businesses and the economy in suburban Chicago. The company publishes a bi-weekly newspaper and also distributes information through special publications, an Internet site and a daily e-mail newsletter. In addition, The Business Ledger hosts a series of seminars, conferences and awards programs. The Business Ledger is a sister publication to the Daily Herald and part of the Paddock Publications family.