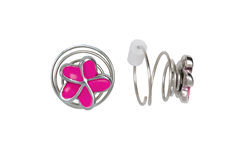 With EarZings, no longer do girls need to endure the pain and infections caused from ear piercing.
Milwaukee, Wisconsin (PRWEB) November 11, 2014
EarZings are the new pierce-free girls earrings that offer health-conscious parents an alternative to ear piercing. Made in the USA to help guarantee safety and quality, EarZings are not your grandmother's clip on earrings or magnets but instead use a newly patented coil design to gently, but securely, hug the ear. With EarZings, girls without pierced ears can wear safe and comfortable earrings that look gorgeous.
EarZings were invented when the 7-year-old daughter of Laura Pfaff, EarZings Owner and Designer, pleaded to get pierced ears. Like many parents, Pfaff wanted her daughter to be older before piercing. Out of a mother's desperation, the original EarZing was designed to pacify her determined child. To Pfaff's surprise, the earring was so comfortable it could be worn for hours on end. It also stayed on the ear and looked like real pierced earrings. Her daughter was instantly delighted with the look and feel of this new earring too. Best of all, the begging for pierced ears stopped!
Studies have shown that as many as 35 percent of ear piercings result in some sort of complication. "With EarZings, no longer do girls need to endure the pain and infections caused from ear piercing," says Laura Pfaff. They also fill a void in the marketplace by offering girls a pierce-free earring that does not pinch like clip on earrings but that stays on the ear well. One mother of a competitive Irish dancer expounded, "My daughter danced two rigorous Irish dances back-to-back and her EarZings stayed put!"
EarZings are available at http://www.earZings.com, as well as through specialty toy stores, children's boutiques and gift shops nationwide. EarZings are also distributed in Canada, Australia, and other select international retailers. EarZings retail for $14.95 (MSRP) and offer 24 styles to choose from. Made in the USA of lead free, hypoallergenic materials.