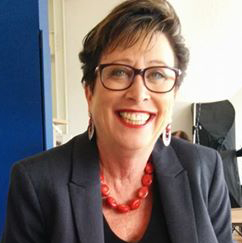 The ROI and incremental revenue CheckMate provides a property is unsurpassed by anything else on the market. I am excited to be part of a company that is making such a huge impact on personalizing the guest experience as we know it."
San Francisco, CA (PRWEB) November 10, 2014
CheckMate, the leading mobile guest engagement platform, has appointed industry veteran Patricia Brusha to drive their Canadian expansion as Director of Channel Sales. In her new position, Patricia will be responsible for education and implementation of CheckMate's revolutionary platform to all Canadian hotel partners including brands, independents, management companies, and franchise owners. She will also develop and oversee the company's reseller program worldwide.
Patricia brings over three decades of hospitality experience to the CheckMate team, with proven success in sales, hotel marketing, internet distribution, and revenue management for large franchise ownership groups and all major brands. Prior to joining CheckMate, Patricia was co-founder and principal of the award-winning A Couple of Chicks digital marketing company as well as the co-founder and producer of Online Revealed Canada, the first and only digital marketing conference in Canada. She also spearheads Meet-Mentor Educate, an innovative mentoring program for hospitality students.
Known as a thought leader and innovator, Patricia has received many accolades in the industry including the prestigious Pinnacle award for Hotelier's Supplier of the Year 2008, Click Weekly list of Top 40 Canadian Online Marketers of 2009, The Profit Hot 50 as one of Canada's Emerging Growth Companies, and the M&IT 2014 Hall of Fame award for "The Big Idea". Patricia has spoken at numerous hospitality events, published over 25 articles, co-authored the book 'Online Marketing Revealed', and is a Google Certified Professional.
"We are thrilled to have Patricia on board to expand the strategic growth of the company into Canada," stated Steve Smith VP Sales. "Her superior reputation and relationships in Canada have proven to be valuable assets. She has already brought hotels from both Westmont Hospitality and Airline Hotel Group as the first Canadian hotels to offer mobile check-in to their guests."
Patricia was immediately intrigued by the CheckMate platform after meeting Founder and CEO Drew Patterson last April.
"I love that the platform integrates with a property PMS system and provides an opportunity to communicate with all guests pre-arrival including 3rd party OTA Guests," remarked Brusha. "Additionally the ROI and incremental revenue CheckMate provides a property is unsurpassed by anything else on the market. I am excited to be part of a company that is making such a huge impact on personalizing the guest experience as we know it."
ABOUT CHECKMATE:
Based out of San Francisco, California, CheckMate empowers hotels to build long-lasting relationships with their guests by delivering uncompromised, high-touch service via CheckMate's guest engagement platform. CheckMate makes it possible for hoteliers to truly understand and connect with their guests, even before they have arrived at their door. More importantly, it enables guests to choose how they would prefer to interact with the property pre-stay, during and post stay. Over 100 hotels are leveraging CheckMate's mobile platform to exceed guest expectations, drive loyalty and maximize revenue opportunities by enhancing personalization and communication with guests. CheckMate's valued partners include hospitality companies such as Rydges, Denihan, Thayer, Pacific Hospitality, Westmont, Hostmark, Hersha Hospitality, and Metwest Terra Group.
In 2013, CheckMate was acquired by Room 77, who has raised $44M from sources, including Expedia, Concur, Sutter Hill Ventures, General Catalyst Partners, former Expedia CEO Erik Blachford, Zillow co-founder Rich Barton and Room 77 chairman Brad Gerstner.
To see CheckMate in action, please visit http://www.checkmate.io