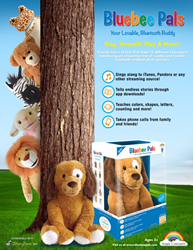 "I think its important to bring back play time for kids in an new revolutionary way with Bluebee Pals" - Laura Jiencke, President - Kayle Concepts, LLC
New York, NY (PRWEB) November 10, 2014
Every holiday shopping season, a handful of toys and children's products seems to skyrocket in popularity because they capture the imagination of children in a powerful and engaging way, and suddenly become "must-have" items on countless holiday wish lists. This season, a cuddly and technologically versatile line of adorable plush animals known as "The Bluebee Pals" seems destined to achieve that level of popularity – offering joy, fun and endless educational opportunities to children of all ages. Now, Toys "R" Us is sharing the enthusiasm of the many children who have already welcomed a "Bluebee Pal" into their homes, and is offering the "Bluebee" Puppy for sale at the company's retail stores throughout the U.S. as well as online. Families throughout the U.S. now have a chance to experience for themselves the magic that results when state-of-the-art technology is combined with the most appealing – and cuddly – plush animals they've seen in years!
Laura Jiencke, CEO of Kayle Concepts and the creator of the Bluebee Pals, was inspired by the idea of creating a line of adorable plush animals that would recapture the imagination of children in this digital age and become the kind of inseparable companion that their parents' and grandparents' once enjoyed in the "pre-internet" era. With years of experience in the toy industry, Jiencke had seen how the popularity of plush toys had begun to decline in recent years as children embraced online entertainment programs and apps, as well as a variety of video games. She believed that huggable plush toys still had a timeless appeal, if only they could be combined with state-of-the-art technology to offer a wide range of entertainment, education and communication possibilities. With that goal in mind, Jiencke collaborated with international technology, design and manufacturing experts, and the result is "The Bluebee Pals." In addition to the adorable Bluebee Puppy available through Toys "R" Us, the rest of the Bluebee family includes a lion, a bear, a zebra and a lamb. Thanks to a Bluetooth connection, each Bluebee Pal can sing any song a child might desire, help them learn to read, and even connect with loved ones anywhere in the world. While there have been other singing and "talking" plush toys in the past, Jiencke was determined to create a line that was truly huggable and cuddly, and infinitely versatile.
In addition to being fun to play with and a joy to hug and hold, families who welcome a Bluebee Pal into their home will discover that they provide young children with an edge when it comes to learning, thanks to interactive technology. When children connect their Bluebee Pal to iStoryTime – a free app that offers access to a large collection of storybooks – they can follow along on their iPad with the story of their choice, while their Bluebee companion "reads the story aloud." The result is an unparalleled level of engagement that supports the learn-to-read process. Cubic Frog, another official partner of the Bluebee Pals, offers a range of online programs that help children learn the alphabet, colors, sounds and even foreign languages. The Bluebee Pals appeal to adults too, and having the Bluebee Puppy "channel" an iPhone conversation with a spouse or co-worker can be a fun and stimulating experience. Children love using this phone feature too, when mom or dad is working late at the office or traveling, or when they want to connect with loved ones literally anywhere in the world.
For more information and to see just how versatile and fun the Bluebee Pals can be, visit: http://www.bluebeepals.com
The Bluebee Pal Puppy can be purchased online through Toys "R" Us by visiting: http://www.toysrus.com/
For more information about the Bluebee Pals, contact:
Tom Martin - Tom Martin Media, LLC - 203-297-2137
Tom(at)TomMartinMedia(dot)com