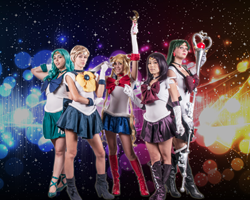 The animation voice actors are so charming, and they get on stage to tell stories about their experiences, often in the voices of their characters.
Miami, FL (PRWEB) November 10, 2014
For three days, this weekend, November 14-16, in Miami, people who are passionate about cartoons, anime, cosplay, animated films, and video games will gather at the Miami Airport Convention Center to celebrate all things animated. The event is presented by Animate Miami which is a division of Super Conventions, the team behind Florida Supercon. Animate Miami is expected to draw over 12,500 people to this event.
Fans participate in more than 300 events over the weekend in which they may dress up in costume, meet animation actors, attend workshops, play games, dance, and even sing Disney karaoke. The most popular events are the actors' Q&As, the costume competition, and the cosplay wrestling event called Florida Super Championship Wrestling. Earlier this year, Animate Miami's costume competition was featured on an episode of Syfy's Heroes of Cosplay. The wrestling event features high flying and hard hitting stunts by professional wrestlers to bring cartoons, comics, and video games to life in epic crossover battles never seen before.
"The animation voice actors are so charming, and they get on stage to tell stories about their experiences, often in the voices of their characters," said Sandy Martin, co-chairman of Animate Miami. "They inspire nostalgia for the cartoons of our youth, and bring life to new animated stories too."
The headlining guest at Animate Miami is Paige O'Hara, the voice actor behind Belle from Disney's Beauty and the Beast. She will be featured at the VIP party on Friday night, at a Q&A on the main stage on Saturday afternoon, and she will sign autographs for fans in the exhibition hall on Saturday and Sunday.
A large part of the animation fandom is centered around Japanese Animation, or "anime," which is brought over from Japan and dubbed in English. One of the most popular anime programs is Sailor Moon, and Animate Miami is hosting a cast reunion for the leading Sailor Moon voice actors. Fans can meet Linda Ballantyne, the voice behind Sailor Moon, and other actors in the cast including the voices behind Sailor Mars, Sailor Jupiter, and Tuxedo Mask.
Cosplay is key to the culture of animation conventions like Animate Miami. Cosplay is the art of creating and wearing costumes to represent a fan's favorite character which is found in animation, video games, or movies. The creativity is so inspiring that many cosplayers like to take selfies with other cosplayers. Animate Miami also sets up photo studios where cosplayers and other attendees can have their photos taken by professional photographers which are posted online for free downloads after the event.
For more information about Animate Miami, please visit the website at http://www.animatemiami.com. Tickets can be purchased in advance from the website, at select local comic book stores, and at the event.
Animate Miami is the largest animation convention in Florida, and it returns NOVEMBER 14-16, 2014 for three days of Anime, Animation, Cosplay, Video Games, and Comic Books. Animate Miami will take place at the Miami Airport Convention Center and the Doubletree Hotel located at 711 NW 72nd Ave, Miami FL 33126.
Super Conventions is an events company that manages multiple events that unite fans with superstars which include Animate Miami, November 14-16, 2014, Ronin Pro Wrestling, December 6, 2014, Magic City Comic Con, January 16-18, 2015, and Florida Supercon, June 25-28, 2015.