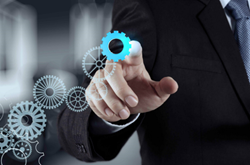 "Their leadership, product experience, and global technology backgrounds are directly relevant to the ikeGPS product portfolio and strategy," says ikeGPS CEO Glenn Milnes
Westminster, Colorado (PRWEB) November 10, 2014
ikeGPS Limited (NZX:IKE) today announced it has named Dr. Richard Mander to the post of Executive Vice President of Engineering and Peter Shaw to the post of Head of Software Engineering. Both positions will report to CEO Glenn Milnes and will join the ikeGPS executive team. Dr. Mander will lead the overall Engineering function including the management of hardware engineering and the company's production and manufacturing. Mr Shaw will lead the ikeGPS' software development function which includes the GE MapSight and Spike products lines.
Dr. Mander has extensive experience turning technology into great products, and in building engineering and manufacturing operations. Richard's career includes roles as Engineering Group Manager at Apple Inc., as Chief Technology Officer at Navman Limited, as CEO of HumanWare Limited, as Director of Operations Engineering at Contour, Inc. and CTO of Visualant, Inc. Richard has a BA from University of Canterbury, a MA from University of Auckland and a Ph.D. from Stanford University. In 2004, he was named World Class New Zealander for his achievements in technology in the US market.
"Richard has led design, engineering and production for renowned international technology companies that have developed true market-leading positions," said ikeGPS CEO Glenn Milnes. "He has a track record of designing and building high quality products that delight customers and ship in volume."
Mr. Shaw brings extensive software engineering management experience to ikeGPS, and he will lead the management of the company's software engineering teams. Mr. Shaw has joined ikeGPS from Trimble Navigation Inc., the US $7.2B provider of measurement tools and software, where he was a senior Software Engineering Manager in the Geospatial division, responsible for their field software engineering teams globally, for web and mobile application development, and for GIS software engineering. Peter has recruited, led and grown international teams in Asia, USA, and New Zealand. He has degrees in Maths, Physics and Engineering from Victoria University and the University of Auckland.
"Peter has led Trimble Navigation's global geospatial software teams to develop their most recent cross-platform mobile and cloud products. His experience will have an immediate impact across our teams as we continue to deliver our product roadmap and build out our R&D capabilities," said ikeGPS CEO Glenn Milnes. "I am delighted to have brought Richard and Peter onto the management team. Their leadership, product experience, and global technology backgrounds are directly relevant to the ikeGPS product portfolio and strategy. We are excited to welcome them into the business to more quickly advance current and pipeline initiatives."
About ikeGPS
ikeGPS' mission is to revolutionize every measurer's day. Its field data collection and asset management solutions have been adopted around the world and are used in in a variety of industries including Utility, Telecom, Government/Defense, and Engineering. The Company has a Trademark Agreement with General Electric and markets its Electric Utility solution as GE MapSight.
The company recently introduced Spike, the world's first laser accurate Smartphone measurement solution. ikeGPS' global sales and marketing headquarters is based in Colorado USA. ikeGPS Group is listed on the main board of the New Zealand Stock Exchange under the stock symbol IKE. For more information, visit http://www.ikegps.com.