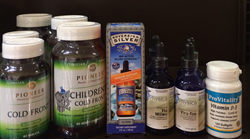 The best way to prevent any type of serious illness is to get to the root cause and correct any underlying health issue so that you have a solid foundation to fight off any kind of infection, including the flu
Orland Park, Illinois (PRWEB) November 10, 2014
"The best way to prevent any type of serious illness is to get to the root cause and correct any underlying health issue so that you have a solid foundation to fight off any kind of infection, including the flu," began Barbara Griffin, NMD, CNC, Certified Gluten Practitioner and owner of New Vitality Health Foods, Inc.
"Building a strong immune system is critical. Healthy lifestyle choices, such as, a healthy low-fat, low-sugar diet and limited processed foods are a good first step. Proper rest is essential to help the body recuperate from daily stresses. And, by ensuring your gut is healthy, as 70% of your immune system is located in the gut, will help build a solid immune system foundation," remarked Dr. Griffin.
New Vitality Health Foods, Inc. offers several products that help support and build a healthy immune system. By incorporating these natural remedies, the body's natural defense system will be enhanced. Additionally, many of these products will help shorten and lessen the severity of cold and flu like symptoms.
Pioneer Cold Front Description
Clinician formulated for acute support and long-term usage, Pioneer Cold Front contains Vitamins A, C, & Zinc and elderberry, monolaurin and andrographis and is gluten free.
Physica Energetics: Flu Milieu
Flu Milieu is a homeopathic formula that can be taken for the first 15 days of every month during cold and flu season to help prevent colds and flues. It is also effective in helping to speed up recovery if a person does get sick. It comes in an easy to administer dropper and can be taken by children and adults.
Physica Energetics: Viru-Tox
The moment a cold or flu virus enters the body, the immune system goes into action to eliminate it. Maintaining a powerful immune system is essential when addressing cold and flu viruses. Viru-Tox is a homeopathic remedy formulated to stimulate and support the body's immune system during the onset of the flu.
Sovereign Silver: Bio-Active Silver Hydrosol Immune Support
To support the immune system, Bio-Active Silver Hydrosol Immune Support offers powerful actively charged silver particles that are easily absorbed by the body.
Optimize Vitamin D
Vitamin D is a powerful immune system modulator. Vitamin D can be taken daily in order to keep the immune system strong. Vitamin D is a crucial component of not only healthy bones, but a protector against cancer, diabetes, healthy brain function and a strong immune system booster as well. Adequate levels of Vitamin D is essential in individuals who are gluten sensitive and those who have autoimmune conditions, such as celiac disease. ProVitality Vitamin D comes in 2,000 and 5,000 IU.
Umcka Cold Care
Umcka offers remedies tailored for both for children and adults. Umcka is clinically proven to shorten the duration and reduce the severity of the cold.
Samucus
Can be taken as a viral preventative and may aid in speeding recovery time.
Oscillococcinum
Take at the onset of flu symptoms and may prevent the full-blown flu. As soon as you start feeling run down or have other flu-like symptoms, such as headache, body aches, chills and fever, take Oscillococcinum and feel like yourself again. Oscillo works naturally with your body to reduce the duration and severity of flu-like symptoms.
Olive Leaf Extract
Can be taken every day throughout the season to help fight cold and flu bugs. Olive leaf extract is effective in fighting microorganisms like bacteria, fungi, viruses, and protozoa among others that cause numerous diseases.
Irwin Immuno-Shield All Season Wellness
Immuno-Shield contains a unique combination of nutrients for comprehensive immune support. The ingredients in this formula act in three distinct ways to support the body's natural defense mechanisms. It contains vitamins/minerals, multi-herbs, and bioflavonoids targeted for the respiratory system.
New Vitality Health Foods, Inc. notes that people with an autoimmune disease should not take Echinacea as this may over stimulate the immune system. The content of this article is for informational purposes and not meant to diagnose or treat any disease. Please consult your medical practitioner before introducing any supplement into your daily regimen.
About New Vitality Health Foods, Inc.:
Established in 1988, New Vitality Health Foods, Inc. provides Chicagolands' largest selection of allergy-free foods that have met their high standards for taste, quality, and nutrition. New allergy-free foods are introduced weekly. They also carry frozen foods, vitamins, herbs, homeopathic, aromatherapy, body care, pet care, household items and much more. New Vitality features only the highest quality, effective nutritional supplements to support their customers' total health. New Vitality Health Foods, Inc. is located at Orland Park Crossing, 14225 S. 95th Avenue Suite 410, Orland Park IL, 60462. (708) 403-0120 http://www.newvitalityhealthfoods.com