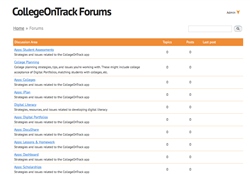 This is a site by and for educators. The content will come from them.
Palo Alto, CA (PRWEB) November 12, 2014
Last Friday morning CollegeOnTrack launched its educator Forums in response to suggestions from school clients. Educators, always interested in how colleagues are dealing with common issues, began posting questions and comments right away. 
The first post was from a Missouri teacher wanting to change how subject areas appeared within the Student Planner. CollegeOnTrack engineers responded overnight, providing the new capability by the following morning.
"This is a site by and for educators", said Marketing V.P. Phil Roybal. "The content will come from them. We want to build a vibrant user community around CollegeOnTrack". The company monitors Forums to answer questions and respond to problems, but will not dictate or censor site content. 
CollegeOnTrack has set up sections dedicated to Digital Literacy, College Planning, individual apps, and System Announcements. As the company sees usage develop, it may add more sections to help organize conversations.
Https://forums.collegeontrack.com is open to anyone, but only educators with CollegeOnTrack accounts can initiate conversations or post comments. They will sign on with their CollegeOnTrack ID's and passwords. The intent is to keep Forums focused on the interests of active users. CollegeOnTrack will contact its educator clients this week to tell them about Forums and encourage sign ups. 
About CollegeOnTrack 
CollegeOnTrack is a web-based system that enriches the learning experience in middle and high school as it prepares students for college and successful careers. Like a smart phone, it's a platform with apps, and it helps create interactive learning communities among students, teachers, and parents. Apps include Student Assessment, iPlan, Digital Portfolio, Colleges, Lessons & Homework, Grade book, Dashboard, Calendar, Messages, and Administration. TestPrep, eTranscript, and Scholarships are optional.
CollegeOnTrack has been on the market for two years, and is used by schools from Hawaii to New York to build college and career readiness.
For more information about this topic, or to schedule an interview, contact Philip Roybal at (408) 782-4244, or phil(at)collegeontrack(dot)com.
CollegeOnTrack is a trademark of ServiceInfinity Inc.