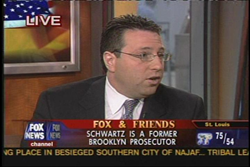 "I am honored that my peers have recognized me for my zealous advocacy of my clients
Garden City, New York (PRWEB) November 11, 2014
David Schwartz, a partner in the Long Island and NYC-based firm of GerstmanSchwartz and Malito, has just been named "Top Rated Lawyer" by the New York Law Journal and Martindale-Hubble, a premier legal industry publication. The New York Law Journal, a leading provider of news and information to the legal industry, has teamed with Martindale-Hubbell™ to highlight "Top Rated Lawyers" (White Collar and Criminal Defense) in the newspaper publishing on September 29.
As the announcement says:
"On behalf of the New York Law Journal and Martindale-Hubbell™, I would like to congratulate you on being selected as a 2014 "Top Rated Lawyer" in the practice areas of White Collar Crime or Criminal Law. As you know, the Martindale-Hubbell™ AV Rating recognizes the best and most skilled attorneys practicing within your respective practice area. The AV rating only represents a select 10% of the U.S. attorney population. You've achieved this rating based on nominations and recommendations from your peers and colleagues that you encounter on a daily basis. Congratulations!" (http://www.newyorklawjournal.com/)
David Schwartz has spent his entire legal career practicing law as a litigator, and for the past decade he has built a sterling reputation as a lobbyist and advocate on behalf of businesses, trade associations, not-for-profits and individuals. Whether it is in the courtroom defending and advocating on behalf of litigants in high profile criminal and civil cases, or in the halls of the Capital, David exhibits the same philosophy and attitude: to advocate aggressively and passionately for the client. Mr. Schwartz has represented clients at all ends of the spectrum including some of the largest companies in America to some of the least fortunate in our society on criminal matters. "I am honored that my peers have recognized me for my zealous advocacy of my clients" said Schwartz.
In addition to this prestigious honor, David was also designated one of the Metropolitan area's "Super Lawyers" in 2014 by Super Lawyers Magazine. The publication singles out the most outstanding, as well as excellent up and coming legal talent in our local area. (http://digital.superlawyers.com/superlawyers/nyslrs14#pg1)
The news of Mr. Schwartz's honors comes on the heels of his firm's aggressive expansion on both the legal and lobbying fronts. Just last month the GertsmanSchwartz team added Bob Malito, the eminent Albany lobbyist, as a name partner, while simultaneously adding senior litigators and public policy experts to its legal-lobbying team.
As partner Brad Gerstman says, "We are proud of David's recognition, and equally proud to be adding new partners and professionals so that the GerstmanSchwartz and Malito will become known as a paragon of legal and government relations excellence."