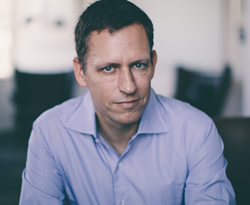 San Francisco, CA (PRWEB) November 11, 2014
Are there signs of impending tech bubbles in private sector investing? What alternatives are there to the increasingly popular "spray and pray" approach to early stage funding? How can tech entrepreneurs and investors learn to think unconventionally and win competitively?
Peter Thiel, who Fortune Magazine has called "America's leading public intellectual today" and is famously known for providing the first seed capital to Facebook, brings his uncommon wisdom to the inaugural Post Seed Conference in San Francisco, answering these questions and more.
WHAT: One-hour special session with PayPal founder, billionaire investor Peter Thiel. Thiel is author of the recently published, critically acclaimed book Zero to One.
Post Seed is a one-day event that is bringing together top minds in early stage funding together. Attendees and speakers represent represent journalists, startup founders, and investors from the world's leading venture capital firms. The conference is being presented by Bullpen Capitol, Vator and Venture 51, and is sponsored by Silicon Legal Strategy, Wavemaker Partners, KPMG and Bread and Butter Wines.
WHERE: The Cowell Theater in the Herbst Pavilion, 2 Marina Boulevard, San Francisco
WHEN: Thursday, December 2. Conference hours are 9:30 am to 4:30 PM followed by a special cocktail party from 4:30 to 6. Peter Thiel's session will be from 11:20 am to 12:20 pm.
To request a press pass please email press(at)vator(dot)tv .