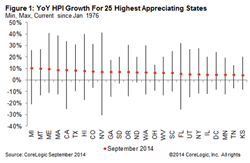 Denver Colorado real estate has been particularly strong reaching new highs
Chicago, IL (PRWEB) November 10, 2014
Peoples Home Equity was intrigued by a recent November 4th release from Corelogic, a real estate data analytics provider. The release is titled "September 2014 Home Prices Increased 5.6 Percent Year Over Year" and mentioned that on a year-over-year basis its home price index increased for 31 consecutive months.
In the short term, the home price index fell 0.1% in September which Peoples Home Equity viewed as a healthy pause in the market giving buyers a chance to look around before purchasing a property. As we move into winter buyers will see more opportunities present themselves in terms of price but it may not be much as Peoples Home Equity already expects prices to remain seasonally strong.
Corelogic highlighted that if distressed properties were excluded then home prices actually increased by 0.1% in September. Meanwhile are "still 12.6 percent below the peak in April 2006, and excluding distressed sales, prices were down 9.1 percent from peak levels." This means prices are on their way higher again.
Looking across the country, "Including distressed sales, year-over-year home prices were up in every state. Michigan led the country with a 10.3-percent price increase from September 2013, followed by Montana with a 10-percent increase. Excluding distressed sales, all states except Mississippi experienced a year-over-year price gain, with Maine (+10.4 percent) and Massachusetts (+9.7 percent) showing the largest increases."
Corelogic continued with "Five states reached new highs in home prices in September 20141." Peoples Home Equity recently wrote that Denver Colorado real estate has been particularly strong reaching new highs in terms of a separate index value. Corelogic also noted that Colorado was among one of the states "that reached new highs in home prices in September 2014."
If interested in purchasing a property in some part of the country, consider using Peoples Home Equity as the lender. Contact a Peoples Home Equity loan officer today at: 262-563-4026