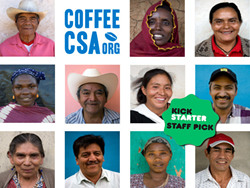 We view any donation as a statement of support for putting ownership back into the hands of farmers.
Sacramento, CA (PRWEB) November 11, 2014
Pachamama Coffee Cooperative, a 100% farmer-owned coffee company that directly connects farmers to consumers, plans to add craft roasting to its offerings. Pachamama's farm-to-market website, CoffeeCSA.org, launched in 2011 as the first global Community Supported Agriculture (C.S.A.) model for coffee. This week, CoffeeCSA launched a Kickstarter campaign with the goal of purchasing a zero-emissions coffee roaster.
The concept is simple: CoffeeCSA allows consumers to buy coffee directly from small-scale farmers online, which is delivered to their home or office on a monthly basis. The process allows farmers to retain ownership of their best coffee from farm-to-cup while earning 100% of the profits.
So far, more than 100,000 farm families benefit by owning 100% of Pachamama Coffee Cooperative in California. By selling directly to consumers via CoffeeCSA, farmers receive five-times more than the industry average for their beans. With thousands of subscribers and retail partners across the country, CoffeeCSA is prepared to take ownership of the roasting process, which is presently out-sourced to a local roaster.
"By roasting their own coffee, farmers empower themselves to control the value-added processing, marketing and selling of their best coffee" states Thaleon Tremain, CEO and co-founder of CoffeeCSA. "By roasting daily we'll cut delivery time in half to provide our customers with the freshest and highest quality coffee possible."
The Kickstarter campaign offers a variety of rewards designed for coffee lovers. Backers can choose to plant a coffee tree in their name to offset the La Roya (coffee rust) losses in Nicaragua, receive freshly roasted beans, create their own specialty coffee blend or even enjoy an all-expenses paid agritourism experience in Nicaragua during the coffee harvest.
With a new roaster, Tremain estimates that the farmers will earn $1 more per pound of coffee. "Backing this project means more than helping farmers buy a roaster," adds Tremain, "We view any donation as a statement of support for putting ownership back into the hands of farmers."
Click here to view the Kickstarter page.
About CoffeeCSA
CoffeeCSA is a community supported agriculture model that allows consumers to subscribe to regular deliveries of fresh-roasted, 100% organic coffee from specific family farmers. Founded in 2011, CoffeeCSA is a project of Pachamama Coffee, the first global cooperative of coffee farmers, consisting of more than 100,000 farm families in Peru, Nicaragua, Guatemala, Mexico and Ethiopia.
Founded in 2001, Pachamama Coffee Cooperative is the largest farmer-owned coffee co-op based in the US and is the only coffee company to use sophisticated information technology that lets coffee farmers tell their own stories to consumers. This authentic connection with consumers is unprecedented in the coffee industry, empowering farmers to differentiate outside of the commodity crop model and deal directly with consumers. Pachamama is a Certified B corporation.