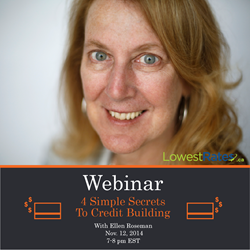 We're excited to be a part of bringing her expertise to the public with this Wednesday's webinar
Toronto, Canada (PRWEB) November 10, 2014
With November Financial Literacy Month well underway in Canada, LowestRates.ca is proud to host Toronto Star columnist and personal finance author Ellen Roseman in a live webinar, 4 Simple Secrets To Credit Building.
The Ellen Roseman webinar, scheduled to take place between 7:00 p.m. and 8:00 p.m. on Wednesday, November 12th, will give Canadians everything they need to know to improve their credit and take control of their finances. Webinar participants will also be given the opportunity to ask questions related to personal finance and broader consumer rights issues, topics in which Roseman is a leading expert.
"The name Ellen Roseman is practically synonymous with consumer rights in Canada. She's also one of the most trusted personal finance experts in the country, and we're excited to be a part of bringing her expertise to the public with this Wednesday's webinar," said Cliff Ritter, CMO of LowestRates Inc.
As a special bonus, LowestRates.ca will be sending signed copies of Ellen's latest book, Fight Back: 81 Ways to Help You Save Money And Protect Yourself From Corporate Trickery to 10 randomly selected social media and webinar participants.
To take part in the webinar, participants can simply click on this link to pre-register. Automated reminder emails will be sent to each participant before the start of the event. Participants can submit their questions via LowestRates.ca's Twitter, Facebook, and Google+ accounts or at info(at)lowestrates(dot)com prior to the webinar.
The Ellen Roseman webinar is part of LowestRates.ca's ongoing mission to help Canadians master their personal finances and find the right financial products for their unique needs quickly and easily and all in one place.
About Lowest Rates Inc.
Based in Toronto, Canada, and founded in 2012, Lowest Rates Inc., through its websites LowestRates.ca and LowestRates.com, provides a free independent online service that helps consumers compare personal financial products offered by North America's leading financial institutions. Lowest Rates Inc. helps people save time and money by allowing them to compare offers on mortgages, insurance and credit cards all in one place. Lowest Rates Inc. strives to become North America's leader in providing consumers with the necessary tools and unbiased information they need to quickly and conveniently find the right personal financial products for their unique needs.
Contact Information
Cliff Ritter
Co-Founder & Chief Marketing Officer
info(at)lowestrates(dot)com
Lowest Rates Inc