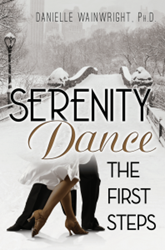 The beautiful girl finds, however, that living in a foreign land has challenges of its own.
BRANDON, Fla. (PRWEB) November 10, 2014
Flying to Germany on her 17th birthday to join her half-brother and his family is just the first step Gabrielle takes to escape the poverty and political unrest of her Haitian homeland. The beautiful girl finds, however, that living in a foreign land has challenges of its own, and this new novel released by Dog Ear Publishing describes the journey that unfolds for Gabrielle and her faith in mankind and God.
"Serenity Dance: The First Steps," the first novel in a series, follows Gabrielle's life as she makes life-changing decisions, from leaving her first love to overcoming culture shock and re-inventing herself as she finds herself with a new family, new school and new set of friends. She slowly begins to make new friends and find her place with her half-brother's wife and young son. Although Gabrielle is in Germany, her heart remains in Haiti and with her boyfriend Benji.
All is going well until a snowy day brings a shocking act that will steal her dreams and faith. Gabrielle experiences further betrayal when she receives unwelcome news from overseas. Can she overcome the obstacles put in her path and continue her education and hope of improving the lives of women across the globe? In this compelling book, inspired by a true story, Gabrielle's own determination and an unexpected form of support may be enough to put her on a new path in life.
Danielle Wainwright serves as a mentor to teenage mothers in the Woman To Woman program in Florida, empowering young mothers to help them thrive. The Haiti native has published articles in literary journals and written several book reviews, and she has given presentations at literary conferences globally. Wainwright has a Ph.D. in Francophone literature and a master's degree in human resources from Ohio State University. The mother of two daughters volunteers for nonprofit organizations dedicated to helping Haiti and women. She is already working on the next book in the series: "Serenity Dance: Un-Tango."
----------
For additional information, please visit http://www.myserenitydance.com
Serenity Dance: The First Steps
Danielle Wainwright, Ph.D.
Dog Ear Publishing
ISBN: 978-1-4575-2945-0 256 pages $16.99 US
Available at Ingram, Amazon.com, Barnes & Noble and fine bookstores everywhere.
About Dog Ear Publishing, LLC
Dog Ear Publishing offers completely customized self-publishing services for independent authors. We provide cost-effective, fast, and highly profitable services to publish and distribute independently published books. Our book publishing and distribution services reach worldwide. Dog Ear authors retain all rights and complete creative control throughout the entire self-publishing process. Self-publishing services are available globally at dogearpublishing.net and from our offices in Indianapolis.
Dog Ear Publishing – self-publishing that actually makes sense.