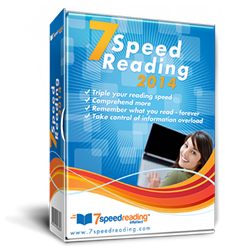 Reading is the door to knowledge, entertainment, expertise, and companionship.
New York City, NY (PRWEB) November 13, 2014
In a new blog entry on the 7 Speed Reading™ blog, eReflect argues that reading is not a pastime, it's a necessity. Reading is an important activity that people of all age groups should engage in consistently, says the company. There's a misconception that reading is only relevant only for people in an educational situation, like young children in primary school, or college students.
eReflect dismisses this misconception, asserting that reading is an educational, constructive experience essential for everyone throughout their lives. Of course, notes the company, depending on a person's age and present needs and priorities, reading will have a different content and serve different purposes over the course of their lifetime.
It's not just the topic that changes, the 7 Speed Reading™ editor explains, but the medium changes as well. However, whether people read online or print publications, the activity and its benefits remain unchanged. People now can also optimize their learning if they learn to speed read. Speed reading saves time and helps people learn more with less time invested in the activity. Given that people are often discouraged before they even begin reading because of their poor reading efficiency, learning to speed read can be the ticket to more learning and knowledge.
eReflect explains the central importance of speed reading skills, saying, "Speed reading is a sustainable way of modernizing reading. Given the amount of knowledge created every day, becoming a more efficient reader is the only way forward. Young children will learn to read to get introduced to storytelling and knowledge in general. College students will read to complete their projects, essays and pass exams. Professionals will read to keep up with trends and new developments; others will read for pleasure, entertainment and for rest. No matter what one's reason is for grabbing a book and sitting in a quiet corner to read, the one thing is certain, reading is a multi-beneficial activity that people should embrace wholeheartedly. Turning reading into speed reading can only accelerate the reaping of these benefits."
Reading is the door to knowledge, entertainment, expertise, and companionship. For children it introduces them to real-life situations, and nurtures their creativity and imagination through exciting fairy tales. For seniors, reading is a pleasant pastime, a means of escape; for active professionals, books can be a road to more power and authority. What's more, eReflect notes, everyone who reads gets the benefit of keeping their brain agile and strong. Reading is for everyone, the developer of the speed reading program emphasizes.
eReflect is the designer of 7 Speed Reading™, a program that various speed reading software reviews, including Top Ten Reviews, have voted top speed reading tutor.
************
For more information about the benefits of using 7 Speed Reading, please visit the official website at http://www.7speedreading.com.
About 7 Speed Reading™
7 Speed Reading is the only modern speed reading software that uses the latest technology to produce superior results.
The software provides its users with a new way to master speed reading that guarantees three times the reading speed along with improved memory and comprehension.
The software is poised as the most comprehensive speed reading system anywhere. It contains seven learning strategies, fifteen software activities, video training, advanced tracking capabilities and many more exciting features.