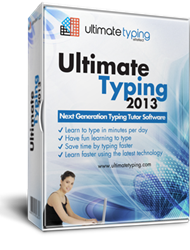 Touch typing is an activity that activates and requires the involvement of multiple areas of the brain.
New York City, NY (PRWEB) November 14, 2014
When people are asked about the best way to keep brain functions strong and memory agile, they often think of brain games and apps. However, people rarely, if ever, consider touch typing to be a memory-boosting activity. As eReflect points out in a recent blog post, it's important that people remember that touch typing can be just as effective in helping improve memory as the latest app.
The typing software designer asserts that touch typing can help people keep their memory fit and strong because typing is a cognitive skill that draws on not only motor and muscle memory but also on the brain's linguistic centers. Software like eReflect's touch typing tutor helps people learn to touch type accurately and efficiently. What few people realize, however, is that typing can be a memory boosting practice if used correctly. eReflect recommends that people use their daily typing to boost their brain skills at the same time. "According to Lifehacker.com," the editors remark, "when you mistype a word, don't just correct that one-letter error, delete the entire word and type it again. This is an excellent memory practice that forces your brain to recall the correct spelling of a word. It's easier to fix a misspelling your spellchecker flags red, but it's much more demanding and effective to delete the entire word and spell it from scratch – and you should type it as many times as necessary until you get it right."
eReflect is the designer of touch typing tutor Ultimate Typing™, a user-friendly program that helps people improve their keyboarding skills. eReflect recommends that instead of looking up a mistyped word people should instead make several attempts to re-type that word until they get it right. In this way the typist practices spelling and at the same time gives their brain and memory a mini training session.
Ultimate Typing™, one of the best typing programs on the market, helps people master touch typing, something that has the side benefit of helping keep their memory fit. Touch typing is an activity that activates and requires the involvement of multiple areas of the brain. In particular, the memory centers of the brain are accessed and used regularly in typing, something that allows people to build strong cognitive synapses and keep their memory's health at good levels.
*********
For more details on Ultimate Typing™ please visit http://www.ultimatetyping.com/.
For more details on Ultimate Typing™ EDU please visit http://www.ultimatetyping.com/schools.
About Ultimate Typing™
Ultimate Typing™ software is designed specifically for the improvement of typing skills. Created by eReflect, a world leader in e-learning and self-development software, Ultimate Typing™ has been informed by the latest developments in the science of touch typing.
Since its creation in 2006 by Marc Slater, the company has already catered to over 112 countries all over the world, offering products with the latest cutting-edge technology, some of which are among the world's most recognized and awarded in the industry.