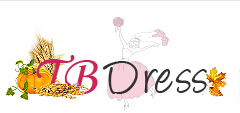 (PRWEB) November 10, 2014
Recently, TBdress.com, a popular online supplier in the market, has unveiled a new assortment of women's outwear products. Along with this, the company has also announced that all the new items are offered with big discounts.
What's more, it has launched Black Friday Online Sales (http://www.tbdress.com/topic/blackfridayInTBdress/). Now, all products provided in its online store are available at greatly discounted prices, up to 75 percent off. Clients who place big orders (above $100) during the promotional can get extra coupons.
"We are very excited to announce the Cheap Outwear Sales online and the big Black Friday Sales. In our online store, new and old customers don't need to spend too much to get their dream products. Please note that the promotion will last for a limited time; those who are planning to buy cheap items should visit our website as soon as possible. By the way, all our products are made with the best materials," the company's sales representative says with a smile.
TBdress.com's trend outwear collection is designed by its most professional workers. Now, the company's top designers are striving to make more comfortable products for ladies throughout the world. They believe that even picky customers can find their dream items at TBdress.com.
About TBdress.com
TBdress.com is one of the most popular suppliers of women's dresses (wedding dresses, evening dresses, and more). The company's passion is to provide customers with the best shopping experience so their special days are everything they dreamed. On its website, ladies can access a huge selection of beautiful dresses. It is working hard to offer more graceful products for new and old clients.
For more details about its items, readers can visit http://www.tbdress.com/topic/blackfridayInTBdress/.