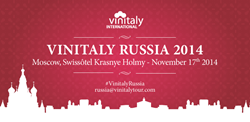 We will take the opportunity during Vinitaly Russia to scout some real candidates to become Italian Wine Ambassadors
Moscow, Russia (PRWEB) November 10, 2014
Eleven years and Vinitaly International still stands firm in the face of the continuous challenges provided by the Russian wine market now burdened by the recent depreciation of the rouble and the ban on foreign agricultural products. A hot topic also at the centre of the round table, "The Russian market today: only crisis or new business opportunities?", that will be opening the eleventh edition of Vinitaly Russia at the Swissotel in Moscow on the 17th of November.
Last year, the Ambassador of Italian Wine had teamed up with importers and producers to counterbalance the ban on alcohol advertising in Russia by leveraging education to favour the promotion of Italian wine in such a difficult but promising market.
Since the beginning of 2014, though, the Russian rouble has plummeted by more than 25 per cent against the dollar. (Source: Russia Beyond the Headlines, 24 October 2014, http://rbth.co.uk/business/2014/10/24/whats_behind_the_plummeting_ruble_40865.html)
According to Russian customs, during the first 9 months of 2014 there has not yet been a significant drop in the import of wine to Russia. Italy is third place after France and Spain for bottled wine, with 26 thousand litres (14.98% market share) and has maintained first place for sparkling wine during the same 9-month period (22 thousand litres sold and a 76,85% market share). (Source – Corriere Vinicolo – August 2014 - http://tinyurl.com/pl9h972)
All that glitters is not gold though: the growth rate of the euro on the rouble over the past eighteen months has started to have its effects on wine import and the extent of the downturn will probably become clearer towards the New Year when contracts are drawn and suppliers taken on.
"According to recent estimates, the depreciation of the rouble is leading to an increase in retail price", explains Aleksandr Stavtsev, Editor-in-Chief of Alcoexpert, one of the leading online market research sources in Russia, who will also be speaking at the round table during Vinitaly Russia.
"The value of bottles from Italy in the near future might increase up to 100 roubles per bottle, 30-40% more with respect to the current average value for low-priced wine. It is, in fact, the cheaper wines that will mostly be affected since they will loose their competitiveness with respect to wines produced in Russia or in nearby countries. Quality Doc, Docg and some Igt wines will be less sensitive to the crisis."
The recent ban on foreign products following the tit for tat move against Western sanctions in the aftermath of the flight MH17 disaster, will most certainly also take its toll but become more evident towards the end of this month. A significant fact is that, recently, President Putin has instructed key Ministries to urgently submit proposals on measures to support domestic production of wine in Russia (Russia now has about 100 thousand hectares of its own vineyards).
Faced by this new crisis and the frequent and worried enquiries received in the past few months by Italian wine producers, Vinitaly International has decided to open its eleventh edition of Vinitaly Russia on the 17th of November with a round table held by institutional figures, market experts and some of Russia's top importers in order to offer attending producers a clear 360 degree overview of the market's current situation.
During this year's single-day b2b event, the round table will be followed by a rich and engaging program combining eight Masterclasses held by top Russian importers with the traditional afternoon Grand Tasting Session that will count a total of 300 Italian wine producers and more than 1700 labels from different regions of Italy.
Vinitaly Russia will also be the last stop of the Vinitaly International Academy, that will close this year's successful round with two Executive Wine Seminars in preparation for next year's Certification Course: in March 2015, VIA will be offering a standardized and officially recognized six hour course and two certification levels with the aim of enabling all those who love Italian wine to speak of it in a unified, organized manner and support VIA in teaching its courses around the world.
"I must admit that we have had many requests to join the certification program from Hong Kong and China, most likely due to our consistent and constant presence in the territory" explains Stevie Kim, founder of Vinitaly International Academy and Managing Director of Vinitaly International. "The same is not the case from Russia, hence, more the reason we will take the opportunity during Vinitaly Russia to engage and scout some real candidates to become Italian Wine Ambassadors who in their turn, can then spread the gospel in Russia as well".
All social media traffic generated during Vinitaly Russia will be analysed by Social Meter (#VinitalyRussia #VIA #vino2015 ) and presented on Vinitaly International Internet site in the Statistics Area.
A special thanks goes to our Media partners, Buona Italia, Enoteka, Simple Wine News and Tipple as well as our Technical partners Cruciani, Ponente, Norda and Riedel for their invaluable support.
About:
Veronafiere is the leading organizer of trade shows in Italy including Vinitaly (http://www.vinitaly.com), the largest wine event in the world. The 48th edition of Vinitaly counted some 155,000 visitors (+6%) in four days of event, of which 56.000 were international attendees representing 36% of the total. On 100.000 square meters, 4.000 exhibitors welcomed trade professionals, media and producers alike. The next instalment of the fair will take place on 22 – 25 March 2015. The premier event to Vinitaly, OperaWine (http://www.vinitalyinternational.com) "Finest Italian Wines: 100 Great Producers," will unite international wine professionals on March 21st 2015 in the heart of Verona, offering them the unique opportunity to discover and taste the 100 best Italian wines, as selected by Wine Spectator. In 1998 Veronafiere also created Vinitaly International to develop a global platform for the promotion of Italian wine producers in foreign markets such as Russia, China, USA and Hong Kong.
# # #