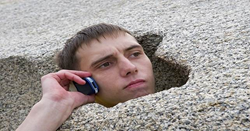 if parents don't discuss depression and suicide with their teens, the teens will have nowhere to turn to but their own demons for help.
London, UK (PRWEB) November 11, 2014
Suicide is not the answer, this is a fact. But, nonetheless, are teens aware that suicide is not the answer to their question: Should I kill myself? NoBullying investigates in an article released today why are teens looking into suicide as a way out.
The concept of suicidal ideation is essential for parents and caregivers to understand because children, teens and youths could be battling with thought of suicide without resorting to suicide attempts, and those ideas could be easily dealt with using the right communication and therapy methods.
It is essential to remember at all times that suicide is one of the top leading causes of death among teens and college students. This makes statements like "I hate myself", "Should I kill myself" or "I want to commit suicide" are real statements from souls that are way too deep into their suicidal depression pit.
Signs to look for are in suicidal teens are personality changes, sudden loss of interest in activities they once enjoyed, drop in grades for good students, fatigue and loss of energy, withdrawal from family and friends, neglect of personal appearance, sadness, lack of concentration, and drug or alcohol abuse. Most importantly, if a teen asks "should I kill myself", they need one answer which is: No. This is the answer they need, expect and the only answer they should hear.
Suicide is caused by many issues that include but are not limited to: genetics, bullying, and depression. It is important to communicate these issues with children as talking with children about suicide can help them elaborate and express their most hidden feelings. This is important as often youth who commit suicide feel alone and cut off. They never confide in someone or ask for help. Creating a safe space for emotions to come out can brush off suicidal thoughts in no time.
For parents to understand the severity of the problem, it is recommended they learn more on the stories of bullied teens who took their own lives for failing to cope with their depression. Tyler Clementi, Amanda Cummings, Amanda Todd and Ryan Halligan took their own lives as they were not able to handle issues of bullying, cyber bullying and depression.
Suicide among youth is a tragedy. It shows that children at most times have no one to talk to about serious issues. It needs to change because it can be prevented.
Ciaran Connolly, Co Founder of NoBullying says "Suicide is not a fun topic to talk about with kids. But if parents don't discuss depression and suicide with their teens, the teens will have nowhere to turn to but their own demons for help."
He added that parents and teachers should make a point to educate the younger generations about the sad outcome of bullying online and offline. According to Connolly, it is quite imperative to press for more firm laws condemning all acts of bullying and harassment.
NoBullying.com features many pages dedicated to parents, teens, teachers, health professionals as well as posts related to cyber safety and the latest news about law making concerning curbing Bullying worldwide as well as inspirational Bullying Poems and famous Bullying Quotes.
The website regularly updates its bullying statistics and cyber bullying statistics as it is essential to understand how widespread the bullying epidemic is. It also regularly runs cyber bullying surveys and questionnaires to get recent updated statistics on everything related to cyberbullying.
He also added that anyone suffering from bullying in any form or way can always find advice and help on the NoBullying website – but if anyone is suffering from severe bullying or cyber bullying, the best thing is to talk to someone locally – a parent, teacher or local organization that has been set up to help with specialized councilors to deal with this topic.