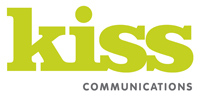 CEO of KISS, Simon Fryer said: Sarah has brought a truly exceptional level of expertise and insight to the agency. Her passion and deep understanding of consumer marketing has played a critical part
(PRWEB UK) 10 November 2014
Sarah Reakes has been promoted to Managing Director of KISS, a creative agency specialising in healthcare, science, technology and FMCG clients.
A former Group Account Director at global advertising agency JWT, Sarah, who was previously Strategy Director at KISS, has played a key role in the agency's success in recent years. KISS has tripled its team in the last 12 months, doubled its turnover and built an outstanding portfolio of clients, including Pizza Hut, Bayer CropScience, IXICO, SBRI Healthcare, Alimentary Health Brands and The Technology Partnership (TTP).
Sarah's 20 plus years experience in the marketing and advertising industry spans across five different countries, working both as a client in a number of blue chip multinationals such as Colgate Palmolive and Nestlé, as well as with global advertising agencies. She has also worked on a number of well-known household names including Special K, Philadelphia, Ritz and Vegemite.
Commenting on her new appointment, Sarah says: "This is an exciting opportunity. KISS works with some fantastic clients who are extremely ambitious and willing to challenge the traditional boundaries of their industry. It is only with support of our exceptional team that we are able to offer these clients the guidance and support to define their marketing strategies. Outstanding creative is at the core of all our work, whether it takes the form of advertising, digital, branding or PR.
"The first 20 years of my career were spent working on consumer brands. Bringing this knowledge and way of thinking to a predominately B2B environment has been very well received by KISS clients. I believe that at the end of the day, a B2B customer is also a consumer."
CEO of KISS, Simon Fryer said: "Sarah has brought a truly exceptional level of expertise and insight to the agency. Her passion and deep understanding of consumer marketing has played a critical part in helping differentiate KISS from other marketing agencies. I wish Sarah every success in her new role."
KISS has recently launched its new website, showcasing many of the projects the agency is most proud of, as well as offering all the latest news. Visit http://www.kisscom.co.uk.
About KISS
KISS is the creative agency that clarifies the complex. We are experts at immersing ourselves in the complex things you do to emerge with focus and clarity to create ideas that will worry your competition.
With specific and in-depth expertise in working in Healthcare, Science, Technology and FMCG our ability to cut through complexity and successfully deliver a single-minded proposition has been instrumental in us winning a fantastic range of blue chip, SME and disruptive start up clients.
We work with ambitious brands that passionately believe they can change the world and need an agency that can match these ambitions.
For further information, please contact:
Amy Sadler
T: 0208 12345 75
amy(at)kisscom(dot)co(dot)uk