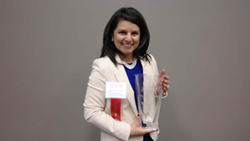 "Receiving this award is humbling because I am able to receive recognition for doing what I love, and that is already rewarding!"
Schaumburg, Illinois (PRWEB) November 10, 2014
Schaumburg-based Developmental Optometrist Dr. Ingryd Lorenzana has been selected for the 2014 "Influential Women in Business Award" from the Daily Herald Business Ledger. Lorenzana received the award at the recognition event, held Nov. 5.
"Since I myself struggled with vision problems, I have always had a passion for helping others overcome theirs, so they could go on to achieve through better vision," said Dr. Lorenzana. "Receiving this award is humbling because I am able to receive recognition for doing what I love, and that is already rewarding!"
The Influential Women in Business Awards honor outstanding women who excel in business, civic and personal arenas. Dr. Lorenzana is a pediatric specialist in optometry and a pioneering force in innovative vision therapy and neuroplasticity technologies. In 2003, she established Advanced Vision Center where she serves as Director for Pediatric and Adult Specialty Optometric Services. In 2012, following her groundbreaking research into neuroplasticity and vision therapy, she launched the Vision and Sensory Integration Institute (VSII), featuring her innovative NeurochieveSM technology for vision therapy. The protocol incorporates the retraining and development of new neural pathways to treat visual learning disabilities and/or rehabilitate visual function loss due to brain injury, trauma, concussion, or stroke.
Dr. Lorenzana earned her a B.S. from Mundelein College, and with the help of vision therapy, completed her Doctorate from the Illinois college of Optometry, with a specialty in vision learning disabilities. She completed a Residency in Pediatrics – Binocular Vision and Perception at the Illinois Eye Institute.
A highly sought after, international speaker, Dr. Lorenzana was named "3D Eye Doctor Of The Year" from Hollywood's 3D International, and America's Top Optometrist in 2013. She is a Fellow of the American Academy of Optometry and a Board Certified Fellow in the Area of Vision Therapy and Neurorehabilitation through the College of Optometrists for Visual Development.
About Vision and Sensory Integration Institute (VSII)
VSII offers the latest innovation in vision therapy technology, including the groundbreaking NeurochieveSM protocol, to treat patients with visual processing disorders or rehabilitating from physical injury. NeurochieveSM harnesses the power of neuroplasticity, or the ability to "retrain the brain", in order to correct visual processing and restore visual-motor and visual perceptive-cognitive processing skills. For more information, contact visiontherapydocs.com.