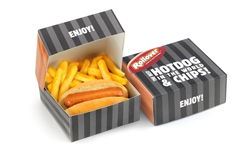 (PRWEB UK) 12 November 2014
In August a study found that Hot Dogs were the UK's fastest growing menu item with 85% more restaurants putting Hot Dogs on the menu than a year ago. Rollover, the UK's leading Hot Dog brand, has responded to this category growth by developing a number of ready made products for the travel sector with Alexir as their packaging partner. The Alexir Partnership had already been working closely with Rollover for over a year to help them develop their ovenable food packing with products specifically targeted at the airline and travel markets.
Alexir's expertise in the market made them an ideal partner to work with Rollover, resulting in the Mini Hot Dog aimed at the 'complimentary' market whilst the larger version is perfect for the 'buy on board' market.
Now with Alexir's help Rollover have added a Hot Dog and Chips box which is loved by kids and adults alike. It's a delicious smoked high meat content pork sausage in a soft roll with 100gm of tasty chips packed in a striking ovenable tray. Using specialist ovenable boards and inks Alexir developed packaging to not only compliment the food but also to ensure balanced heating. After just 15 minutes in an airline oven your passengers can be enjoying a tasty meal.
Assembled and ready to go, just heat and eat!
Notes to Editors
About the Alexir Partnership
With proven reliability, excellent quality and innovative packaging solutions, the Alexir Partnership is the only UK owned company that can offer a complete turnkey solution to the brand owner.
For more information contact:
Claire Summersby Marketing Manager& Head of Innovation, The Alexir Partnership
E: csummersby(at)alexir.co(dot)uk
W: http://www.alexir.co.uk
T: 01732 866681