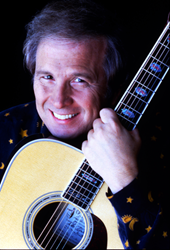 Fairfield, CT (PRWEB) November 10, 2014
Fairfield Theatre Company introduces the best singer-songwriters of yesterday and today at the Norwalk Concert Hall and at StageOne this November.
There is no other artist who is more revered as a songwriter of a generation than Don McLean, who will grace the stage at the Norwalk Concert Hall at 8 p.m. on Saturday, Nov. 15.
After getting his start in the folk clubs of New York City during the mid-'60s, McLean began to build a small following and gain some recognition in the industry. After he wrote a musical tribute to painter Vincent Van Gogh, he signed with record label MediaArts and his storied singer-songwriter career began to take shape.
Although "Vincent" was one of his more popular songs and the one which helped him get signed to a record label, it was his top charting 1971 release, "American Pie," which made him one of the best songwriters of a generation.
McLean makes his Norwalk Concert Hall debut in support of his latest release "Live in Manchester," a CD and DVD collection recorded at Free Trade Hall in Manchester, England. This legendary show had been lost for over 20 years, but has resurfaced and been given a fresh re-mastering that will take fans back in time to the peak of McLean's career.
That is just the beginning of this legendary week of songwriters, as FTC introduces audiences to the future, with U.K.'s biggest upcoming star Lewis Watson on Tuesday, Nov. 18 at StageOne.
Raised in Oxfordshire U.K, Watson began his storied career by writing poetry at an early age. His love for writing turned into a love of music and in just a short while, Watson, with his booming soulful voice, began performing covers of the Knife, Bombay Bicycle Club and Bon Iver and posted his renditions to YouTube. Watson's renditions quickly gained a great response, which led him to begin to post his own compositions.
Now with over 100,000 Facebook likes, 70,000 Twitter followers, five million YouTube views and Spotify streams, Watson makes his way across the pond to support his latest release, "The Morning." Brimming with undeniable talent and irresistible charm, "The Morning" has life and substance. Watson's own passion and emotion define a lot of his latest release coupled with his warm instrumental outpourings.
Ari Hest and Liz Longley will bring something new and eccentric to audience's ears on Wednesday, Nov. 19 at StageOne.
On his latest release, "Shouts and Whispers," Hest creates an atypical collection of tracks that ultimately form a cohesive narrative. With songs of sadness and resignation that gives way to lucidity and catharsis, Hest's introspection and intelligence go on display and create moments of pure magic.
"Shouts and Whispers" isn't an album in the traditional sense, but manages to flow like a complete thought. It has opened a new door for Hest, and has already been featured on numerous television shows, including "Private Practice," "Army Wives," and "One Tree Hill."
Joining Hest will be Liz Longley, the renowned Berklee College of Music graduate from Boston. Longley oozes musical talent through her engaging performances with an effortless stage presence. The Washington Post has proclaimed that Liz is "destined for a larger audience" and Dig Boston called her "a rising acoustic sensation." Even John Mayer is a fan, calling her music "gorgeous, simply gorgeous."
Boston's own Ryan Montbleau will stop by StageOne for two nights on Nov. 20 and 21. With his signature neo-folk, soul, Americana style, Montbleau has become a staple in the music world performing at some of the biggest music festivals for over 10 years.
Montbleau comes back in support of his latest EP "All or Nothing," an album recorded this summer with the Boston-based duo Tall Heights. Together with producer Danny Bernini, Montbleau and Tall Heights produced an original collaborative track, "All or Nothing" and a studio version of their cover of Tracey Chapman's "Fast Car."
Fairfield Theatre Company will end the week-long merriment of songwriters with the sprightly and spirited singer-songwriter, Ani Difranco at the Norwalk Concert Hall at 8 p.m. on Friday, Nov. 21.
As a singer, songwriter, activist, and independent entrepreneur, DiFranco has been setting her own pace—and encouraging countless admirers to do the same—for more than 20 years. But while she has been known as the "Little Folksinger," her music has grown far beyond her acoustic solo roots in cozy venues to embrace jazz, soul, electronica and even more distant sounds.
DiFranco now comes to Norwalk in support of her new Righteous Babe release, "Allergic To Water," which blends abstract imagery and deceptively understated melodies with personal reflections on her life in New Orleans, where she is now raising two children with producer/husband Mike Napolitano.
"It's such a humbling and grueling thing to raise children," DiFranco says. "And that makes playing music more precious and makes me more grateful. It's a real balancing act, but it also has a balancing effect."
Since becoming a mother, DiFranco has mentioned that it has brought her closer to listeners who have followed her music since she began performing in New York City during the early 1990s. Widespread attention never prevented her from holding on to her integrity and independence. A strong belief in human rights has run throughout her work, and she has played at numerous benefit concerts around the world.
So get out and join the Fairfield Theatre Company as they present a week of legendary songwriters from the past and of the future as FTC brings more of the best musical acts to Fairfield County night after night.
To buy tickets for any of the upcoming shows, call the Box Office at 203.259.1036 or buy online at http://www.fairfieldtheatre.org. Visit Fairfield Theatre Company online for the full schedule of upcoming shows.
About the company:
Fairfield Theatre Company is a highly-acclaimed non-profit performing arts organization located in the heart of downtown Fairfield, Connecticut. FTC presents nearly 250 performances and concerts each year featuring outstanding national talent on FTC's StageOne in Fairfield, The Klein Auditorium in Bridgeport, and the Norwalk Concert Hall in Norwalk. FTC's intimate 200-seat StageOne concert venue is widely recognized as being one of the best places to see a live performance in the region. FTC is dedicated to providing the highest-quality arts, live entertainment and educational experiences to the communities it serves.