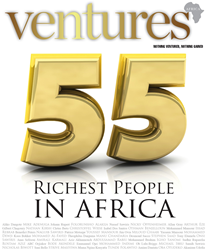 The Ventures Africa Rich List is the most authoritative accounting of individual African wealth.
(PRWEB) November 12, 2014
Lagos, Nigeria: Ventures Africa, an African business magazine and news service, today launched its second annual ranking of Africa's wealthiest people. 'The Richest People in Africa' list remains the most comprehensive compilation of the continent's wealthiest individuals.
In 2014, Ventures Africa has tallied 55 African billionaires, with a net worth totalling $161.7 billion.
This year, Africa welcomed five new billionaires, four of whom are Nigerian.
Key findings from the research include:

The combined fortune of Africa's 55 billionaires is $161.7 billion. This is up 12.4 percent from $143.8 billion in 2013.
The average net worth of the continent's wealthiest people is $2.9 billion. The median age is 63 years old.
Mohammed Dewji of Tanzania and Igho Sanomi of Nigeria remain the continent's youngest billionaires. They are both 39 years old.
Folorunsho Alakija of Nigeria is the richest black woman in the world, worth $7.3 billion. She is followed by Isabel dos Santos, daughter of Angolan President Jose Eduardo Dos Santos, at $3.5 billion.
The most prevalent industries in which African billionaires operate are: construction, financial services, oil and gas, manufacturing, and real estate.
Aliko Dangote, founder of Africa's largest industrial conglomerate, Dangote Group, remains the continent's richest man. His net worth has grown to $25.7 billion in 2014, a 21% rise from his $20.2 billion valuation in 2013.
Nigeria, South Africa and Egypt are home to the most billionaires. Nigeria leads the pack with 23, while South Africa and Egypt have both produced eight billionaires. In total, twelve African countries are represented on the list.
Africa's billionaires provide jobs for almost half a million people on the continent.
"The Ventures Africa Rich List is the most authoritative accounting of individual African wealth," said Chi-Chi Okonjo, Founder of Ventures Africa. "We have been able to accomplish this through our on-the-ground experience and in-depth knowledge of the local and regional African business landscape."
The list has been compiled by sourcing financial reports, tracking equity holdings around stock markets, and identifying shareholding structures in large, privately-held companies. The results have been corroborated through consultation with leaders in investment banking, real estate, and financial analysis to determine proper valuations.
To view the full Ventures Africa list, please visit: richlist.ventures-africa.com
####
NOTES TO EDITORS
About Ventures Africa
Ventures Africa is a Pan-African business magazine and news service, which champions African capitalism by celebrating African success, free enterprise, the entrepreneurial spirit, and the rewards of hard work.
Further information about Ventures Africa can be found at http://www.ventures-africa.com
How We Crunched the Numbers
Our second ranking of African billionaires is based on data compiled by the Ventures Africa team. We once again scoured the continent, seeking out immensely successful business leaders and determining their net wealth. We carefully analysed financial reports and undertook extensive due diligence to track the fortunes of these billionaires.
For billionaires who hold shares in publicly traded companies, stakes were calculated using the market capitalisation of those companies. Private companies were compared to similar publicly traded companies to determine a reasonable enterprise value. For example, Nigerian billionaire Mike Adenuga's telecom company, Globacom, was compared with MTN. MTN has a customer base of 210 million and a market capitalisation of $41 billion. Globacom has a customer base of approximately 30 million, making the company's comparable value $5.9 billion.
Where no suitable publicly listed peer was available, the enterprise value of companies was calculated using global industry standard EBITDA or revenue multiples. For example, Othman Benjelloun's insurance company, RMA Watanya, has revenue of $592 million. The global industry standard multiple for insurance is 1, making RMA Watanya's enterprise value the same as its annual revenue – without including the company's holdings in other subsidiaries. Where EBITDA or revenue was not readily available, production statistics were used to calculate annual revenue. Global industry standard enterprise-value-to-revenue multiples were then applied to determine enterprise value. In a few cases, enterprise values that were calculated using multiples were then discounted by an applied factor tied to the host country's Sovereign Credit Rating in order to accurately assess a company's value.
The number of jobs attributable to each individual was calculated by pro-rating the total employees of a company against the individual's ownership stake in the company. For example, African Rainbow Minerals employs 12,300 people and Patrice Motsepe owns 43 percent of the company, leading us to attribute 5,300 jobs to him.