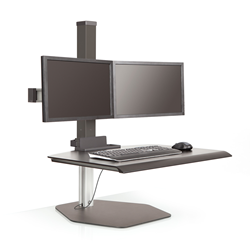 Easton, PA (PRWEB) November 11, 2014
Innovative Office Products (http://www.lcdarms.com) has launched Winston Workstation, a sit/stand workstation that instantly boosts users' health and productivity by allowing them to incorporate both standing and sitting throughout their day.
Recent studies have shown how damaging excessive sitting can be to your health. With this in mind, Winston Workstation is the latest in Innovative's line of functional and ergonomic designs focused on the wellness of workers across all industries.
Winston Workstation has been designed and engineered for stability, offering users seamless height adjustment to go easily from sitting to standing without the distraction of unwanted movement while working. With the push of an actuator button, users can go from sitting to standing, with the internal locking cylinder preventing the desk from sliding or leaning.
As a free-standing workstation, Winston Workstation easily retrofits to any existing desk system, allowing users to obtain all the benefits of a standing desk without having to purchase a completely new desk system. Additional features of Winston Workstation includes a spacious work surface and convenient accessory tray for all necessities, a cable management system to keep the work area organized, and easy monitor installation or removal at the face of the beam.
Winston Workstation comes in a range of model types and can be configured to mount one, dual, triple or quad monitors for enhanced productivity.
For more information on Winston Workstation, visit http://www.lcdarms.com/winston-sit-stand-workstation.php or view the Winston sit/stand workstation video. To inquire about how to get Winston Workstation on your desk, contact a representative at 800-524-2744 today.
About Innovative Office Products
Innovative Office Products is an award winning market leader of monitor and tablet mounting solutions designed and manufactured to provide the best in flexibility, space savings and ergonomic benefit. Innovative leads the way in exceptional quality by combining product performance with award winning design. All products are tested to meet or exceed BIFMA standards and are backed by a manufacturer's warranty. Innovative strives to reduce environmental impact through standard design and manufacturing procedures. Innovative assembles products in the U.S.A. at their manufacturing facility in Easton, PA.
For more about Innovative Office Products visit: http://www.lcdarms.com or follow us on Facebook, Twitter, Google+, LinkedIn, and our blog.