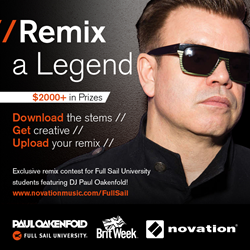 Orlando, FL (PRWEB) November 11, 2014
British music and audio production company, Novation, are thrilled to announce an exclusive remix competition to Full Sail University students, featuring world-famous DJ Paul Oakenfold. Paul is undoubtedly one of electronic music's true legends – a sovereign of DJ culture and one of its most recognizable icons. Now, Paul offers Full Sail students a chance to remix one of his best-known tracks!
Presented in conjunction with BritWeek and Full Sail University, the competition gives current Full Sail students a unique opportunity to remix the legendary DJ's hit track Surrender. Paul, himself, is the competition's sole judge and he will hand pick his favorite remix. The lucky winner will fly to Los Angeles, CA to spend three days – courtesy of Novation – and be invited to perform at Novation's BritWeek party in April 2015.
Novation enjoys a strong relationship with Full Sail University and is excited to bring this amazing opportunity to their students. For more than 30 years, Full Sail University has fulfilled its mission to provide a comprehensive real-world education in entertainment and media arts. Their world-class facilities and degree programs are producing the next generation of music makers and we are proud that many of them use Novation products as part of their studies.
As a British company, Novation is also excited to once again partner with BritWeek – a non-profit organization whose focus is the creative fusion between the United Kingdom and the United States. Focusrite Novation Inc. were honored to be nominated for a Product Design award at BritWeek's UKTI Business Innovation Awards 2014.
In celebration of its distinct British heritage, it is only fitting that Novation center this exciting remix competition, featuring English icon Paul Oakenfold, around BritWeek events in Los Angeles and Orlando, including an exclusive VIP event at Full Sail University.
The remix competition begins November 7, 2014 and closes January 31, 2015. To enter, please visit http://www.novationmusic.com/fullsail(terms and conditions apply).
About Novation:
Founded in 1992, Novation is often credited for creating the first dedicated MIDI controller: the MM10. The popular Bass Station and Drum Station analog synths followed this. They were then joined by their first technical director, Chris Huggett, who had worked on the initial products in his spare time: his first big project at Novation was the Supernova, which rapidly became a go-to synthesizer for artists of the time. Success continued with the Nova and SuperNova II. Novation became part of the Focusrite family in August 2004. With the increasing importance of software in the synthesizer field, Novation expanded its range of keyboard controllers and other innovative control surfaces for musicians and producer/performers, fully integrated with powerful software to form the perfect range of gear to play, create and perform music. Novation gear is designed by musicians and producers who use the gear they design every day. That's why bedroom producers and A-list artists alike use Novation kit: it's been designed by and for musicians. From studio to stage, Novation frees you to make your music, your way – like never before.
http://www.novationmusic.com
http://www.twitter.com/wearenovation
http://www.facebook.com/novationmusic
About BritWeek:
BritWeek is a non–profit organization that hosts a program of events across the US to promote British creativity, innovation and excellence in multiple categories including, entertainment, music, art, fashion, design, retail, sport, philanthropy, business, and more. The events take place throughout Greater Los Angeles, San Francisco, Miami, Orange County, and now also Orlando!
About Full Sail University:
Full Sail University is an award-winning educational leader for those pursuing careers in the entertainment and media industry. Founded in 1979, Full Sail has been recognized as one of the 2014 "Top 25 Graduate Schools to Study Game Design" by The Princeton Review, one of the Best Music Programs by Rolling Stone Magazine, and one of the Best Film Programs by UNleashed Magazine. Full Sail was named the 2014 "School/College of the Year" by the Florida Association of Postsecondary Schools and Colleges, received the "21st Century Best Practices in Distance Learning Award" from the United States Distance Learning Association, and was recognized as one of the Top 100 Social Media Colleges by Studentadvisor.com.
Full Sail offers on-campus and online Master's, Bachelor's, and Associate's degree programs in areas related to Art & Design, Business, Film & Television, Games, Media & Communications, Music & Recording, and Web & Technology. Full Sail graduate credits include work on OSCAR®, Emmy®, GRAMMY®, ADDY®, MTV Video Music Award, and Spike VGX Video Game Award nominated and winning projects.
http://www.fullsail.edu
http://www.twitter.com/fullsail
http://www.facebook.com/fullsailuniversity