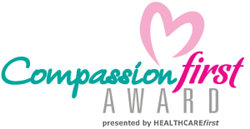 Ozark, Mo (PRWEB) November 24, 2014
HEALTHCAREfirst, the pioneer of cloud-based software and services for home care, today announced that Wanda Latimore and Darlene Stoneking have been chosen as the recipients of the 2014 Compassionfirst Award.
The award recipients each received a $500 cash prize as well as recognition by HEALTHCAREfirst at the 2014 National Association for Home Care and Hospice (NAHC) Annual Meeting and the 2014 National Hospice and Palliative Care Organization (NHPCO) Clinical Team Conference.
Wanda Latimore, the recipient of the Compassionfirst Award for her dedication to home health care, works as a home health attendant for Red River Health Care Systems in Paris, Texas. "Wanda is the most dedicated, honest, go above and beyond the call of duty employee I have ever had the honor to work with in my near 27 years with Red River Health Care," said Jo Harbuck, RN-Administrator.
Darlene Stoneking, the recipient of the Compassionfirst Award for her work in hospice care, is the RN Case Manager for Frontier Hospice in Pueblo, Colorado. "Darlene is a true humanitarian," remarked Andrea Shirley, Director of Clinical Services. "The energy and enthusiasm with which she goes about her life are remarkable."
HEALTHCAREfirst also announced the 2014 Compassionfirst Award finalists: Elsie Vidad-Ozdel, RN/Case Manager at Best and Dependable Home Health Care in Virginia Beach, Virginia was honored for her commitment to home health care and Sally Schwab, Team Leader at Hands of Hope Hospice in St. Joseph, Missouri was awarded for his dedication to hospice care.
The Compassionfirst Award is presented to the home health or hospice caregiver who goes above and beyond what is required and regularly shows genuine kindness, dedication and compassion when caring for others.
HEALTHCAREfirst has highlighted the stories of both the winners and finalists on its website.
About HEALTHCAREfirst
HEALTHCAREfirst provides leading-edge, cloud-based solutions that improve business and clinical functions to over 12,000 home health and hospice professionals across the United States. Based in Ozark, Mo and one of the fastest growing providers of its kind, the company provides clients with agency management software, electronic medical record software, revenue cycle management software, business intelligence reporting and billing and coding services that enable caregivers to focus on patients instead of paperwork. For more information call 800.841.6095 or visit the company's website.