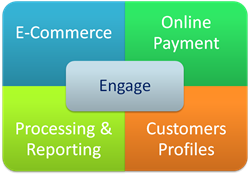 "Build your brand equity simply by engaging with your customers through each and every transaction!"
Toronto, Canada (PRWEB) November 11, 2014
MONEXgroup does not only provide their business partners with an online payment gateway, it also builds them a clientele interface for a real time experience!
This season, e-commerce activity is flourishing with an expected increase in total online spending of 20% in Canada, according to CBC News and Forrester Research. Simply by looking at the Canadian habit and online spending projections provided by Forrester Research, it is estimated to have a total of C$22.3 billion spent on online shopping by the end of 2014 and with an increase of 9.5% of total retail transactions reaching C$39 Billion by 2019, (Peter Sheldon, 2014).
MONEXgroup supports and will continue to provide their retailers across Canada with most up to date technologies in promoting their brands online; allowing for an increase in their profit margins. With responsive design in payment gateways and their functionality, MONEXgroup allowed their retailers to adapt the technology and process transactions with the benefit of reporting, interacting and knowing their customers.
"Once a consumer starts shopping on your website and presses (Pay Now), he will be directed to fill a form with his ID, Contact Information, location and Card Authorization to proceed. It is not just about the security integrated and the technology facilitation we operate for you, behind this we also allow you to be acquainted with your customer base; specifically by gathering their contact information and starting to build a solid relationship with them."
Consumers are there looking for what's new and are well acknowledged of what's going on in the e-marketplace. For full range of Credit Cards and Debit Cards payments, MONEXgroup software engineers ensures delivering high security measurements and a design that fits your consumer's laptop screen, tablet, smart-phone or portable device.
So, let your customers land safely and enjoy shopping on your web page, build your brand equity simply by engaging with your customers through each and every transaction! Learn more about what we can offer you with E-COMMERCE AND VIRTUAL PAYMENTS.